Full Text
Implantable cardioverter-defibrillators (ICD) are the best available treatment for the prevention of sudden cardiac death in patients at high risk of ventricular arrhythmias. Numerous controlled clinical trials have demonstrated that ICD implantation has a robust benefit compared with optimal medical treatment alone in patients with ischemic or nonischemic cardiomyopathy and a reduced left ventricular ejection fraction (LVEF).1–5 Based on the results of trials published between 2002 and 2012, current international guidelines specify ICD therapy for primary prevention as a class I A recommendation.6,7
Nevertheless, ICD therapy remains a costly and invasive intervention and is not free of complications.1–5 Moreover, since the publication of most of the large ICD trials, advances in medical treatment have reduced total mortality and sudden cardiac death among heart failure patients. In a recent study of data from more than 40 000 heart-failure patients with reduced ejection fraction and enrolled in any of 12 clinical drug trials, the analysis revealed a 44% reduction in the rate of sudden death between 1995 and 2014.8 Across the trials, the rate of sudden cardiac death 90 days after randomization fell from 2.4% in the first trial9 to 1% in the most recent,10 and 1-year mortality fell from 5.4% to 3%. This trend has been attributed to progressive increases in the prescription of beta-blockers, angiotensin converting enzyme inhibitors, and angiotensin and aldosterone antagonists. These results have challenged the usefulness of ICD therapy in patients receiving optimal medical treatment.
Despite these data, many electrophysiologists feel that ICD therapy has been judged unfairly. Trials supporting the efficacy of ICDs1–5 have been criticized because in some instances the control-group patients did not receive optimal medical treatment; moreover, in drug vs placebo trials, the rate of ICD implantation was well below that recommended in clinical practice guidelines.6,7 A prime example is the PARADIGM-HF study, which randomized 8442 heart failure patients with LVEF<40% to sacubitril-valsartan or placebo. In the sacubitril-valsartan group, 94.7% of patients were in functional class II-III, and mean LVEF was 29.6%±6.1%. Despite this, the rate of ICD implantation was 14.9%, well below the expected rate based on guideline recommendations. This mismatch with the guidelines raises the question of whether medical treatment would have been as beneficial if the ICD implantation rate had been higher.
The value of primary prevention ICD therapy has been less clear for patients with nonischemic dilated cardiomyopathy, especially since the publication of the DANISH study, in which primary prevention ICD therapy did not reduce total mortality.11 The subgroup analysis showed that ICD therapy was effective in the population younger than 68 years, and a further analysis of the same study showed that this efficacy extended to the population younger than 70 years, with a mortality reduction of 30% (hazard ration [HR],0.70; 95% confidence interval [95%CI], 0.51-0.96; P=.3).12 A meta-analysis of all the available controlled and randomized clinical trials in nonischemic cardiomyopathy patients, including the DANISH trial, confirmed a reduction in all-cause mortality.13
Given the budget restrictions faced by health services, it is crucial to clarify the role of primary prevention ICD therapy in the light of recent evidence. Such an assessment is especially important given the level of benefit reported for ICD therapy in previous trials, which would indicate that blanket ICD assignment for primary prevention would be unethical for patients receiving current pharmacological therapy.
In a recent article in Revista Española de Cardiología, Ribera et al.14 present a very interesting analysis of the cost-effectiveness of ICD therapy for the primary prevention of sudden cardiac death in the Spanish national health system.14 The authors compared ICD therapy plus conventional medical treatment (CMT) with CMT alone in a cost-utility analysis that used Markov models to simulate disease progression in patients with ischemic or nonischemic heart disease. The model parameters were based on a meta-analysis of clinical trials published between 1996 and 2018 comparing ICD therapy plus CMT vs CMT alone, the DANISH trial safety results, and analysis of real-world clinical practice in a third-level hospital. ICD implantation reduced all-cause mortality with HR,0.70 (95%CI, 0.58-0.85) for heart disease and HR,0.79 (95%CI, 0.66-0.96) for nonischemic heart disease. The incremental cost-effectiveness ratio estimated with probabilistic analysis was €19 171/quality adjusted life year (QALY) for patients with ischemic heart disease, €31 084/QALY for those with nonischemic dilated cardiomyopathy overall, and €23 230/QALY for those with nonischemic disease younger than 68 years.
From the perspective of the Spanish national health system, these results confirm the efficiency of single-chamber ICD devices for primary prevention in patients with left ventricular dysfunction of ischemic origin or of those with nonischemic disease and younger than 68 years. In contrast, for older patients with nonischemic disease, the estimated incremental cost-effectiveness ratio of around €30 000/QALY makes ICD therapy less attractive.
This is an important study, especially considering the low use of ICD therapy in Spain, which has one of the lowest rates of ICD implantation per million inhabitants in Europe (figure 1). Although the gap relative to other European countries has narrowed in recent years, it continues to be very marked.15
Spanish registry data show that ICD implantation for primary prevention has been increasing slowly, in line with the pattern seen in other European countries (figure 2).16,17 Nevertheless, the proportion of patients with nonischemic cardiomyopathy receiving an ICD in Spain is low and declined significantly after the publication of the DANISH trial in 2016, although the situation appears to have improved somewhat in the past year.17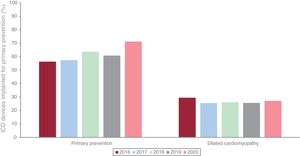 Figure 2.
Proportion of implantable cardioverter-defibrillators (ICD) implanted in Spain for primary prevention overall and in relation to nonischemic cardiomyopathy, as recorded in the Spanish ICD registry,17 2016-2020.
(0.06MB).
The study by Ribera et al. provides evidence supporting primary prevention ICD implantation in patients with a reduced LVEF, including those with ischemic heart disease and those with dilated cardiomyopathy not excluded because of their age. The study can be criticized for not including recent drugs such as sacubitril-valsartan or even newer ones such as dapaglifozin. Moreover, the comparison with ICDs is unsatisfactory. First, the cost calculations assume an ICD longevity of 8 years, whereas the devices in current use last longer than this in clinical practice.18 Second, the ICD efficacy data come from old studies in which medical treatment and ICD programming were both suboptimal. For example, some studies were restricted to single-lead ICDs with a conservative detection algorithm and shock-only therapy.3 Studies like the MADIT-RIT trial5 have shown that more appropriate programming reduces the number of shocks and improves patient survival during follow-up. This is another factor not considered in the analysis of old ICD studies.
Despite the excellent work by Ribera et al.,14 the arguments about ICD use continue and are unlikely to be resolved by the publication of this article. This situation can largely be attributed to the inadequacy of the available methods for stratifying the risk of sudden cardiac death. In Spain, just over 7000 ICDs are implanted each year, against a background of approximately 30 000 episodes of sudden cardiac death.17 This is a clear indication that we lack the ability to identify most at-risk patients and protect them with the most effective available treatment. Approximately a third of ICDs implanted for primary prevention provide appropriate treatment during follow-up, indicating that most patients are overtreated. While it is possible to analyze the data in this way in relation to ICD use, this is not possible for pharmacological treatment; there is no way of knowing if the treatment has benefitted a particular patient or not, and physicians sometimes show a tendency to naively assume that prescribed treatments benefit all patients who show no adverse effects. It is therefore of the utmost importance to use the available data with the greatest of care when selecting patients who might benefit from treatment. In the absence of new evidence of sufficient robustness to change guideline recommendations, primary prevention ICD implantation seems advisable in patients with reduced LVEF, whether associated with ischemic heart disease or with dilated cardiomyopathy in younger patients.
FUNDING
I. Fernández Lozano received no funding for the preparation of this article.
CONFLICTS OF INTEREST
I. Fernández Lozano has participated in clinical studies sponsored by Medtronic, Abbott, and Biotronik and holds fellowship grants from the Spanish Society of Cardiology and the Interhospital Foundation for Cardiovascular Research.
Copyright © 2021. Sociedad Española de Cardiología