Full Text
Although uncommon, stent thrombosis is a worrying complication due to its high morbidity and mortality. In recent years, new bioresorbable vascular scaffolds (BVSs) have been introduced as an alternative therapy that has advantages over drug-eluting stents and can completely disappear over time. Nonetheless, some studies have detected an increased incidence of thrombosis with BVSs vs next-generation drug-eluting stents.1–3 Intracoronary imaging techniques appear to be useful for the diagnosis of this complication and for treatment planning.4 However, the cause and best treatment for BVS thrombosis are still unclear.
From January 2013 to March 2017, 285 BVSs were implanted in 252 patients. In all patients, the procedure was performed according to the technical recommendations for achieving an optimal implantation. Prospective follow-up was performed (mean duration, 647 [interquartile range, 352-868] months, with 1 patient lost to follow-up). During this time, 6 patients had definite thrombosis of the BVS (2.1%). The baseline characteristics of these patients with BVS thrombosis are presented in Table. They showed no significant differences from those of patients without thrombosis (Table of the supplementary material). The most frequent presentation was ST-segment elevation acute myocardial infarction (STEMI). The indication at the time of BVS implantation was mainly off-label and in accordance with various protocols in place in our center: 3 implantations in patients with STEMI and 2 in patients with stent restenosis. By protocol, all patients underwent optical coherence tomography (OCT). Patient 1 showed clear underexpansion in the region containing the thrombus (Figure A), whereas in patient 2, the thrombus was located in a region of underexpansion due to 2 overlapping devices, despite apparently good angiographic results (Figure B). In patient 3, the thrombosis was related to voluntary discontinuation of the antiplatelet therapy in the presence of slight underexpansion of the BVS (Figure C). In patients 4 and 5, OCT revealed an optimal structural appearance of the BVS in the region of the thrombosis (Figure D and Figure E). The conditions presented as acute thrombosis in the setting of STEMI and, in both patients, the clopidogrel loading dose (600mg) was administered shortly (< 30min) before the procedure. Finally, patient 6 showed very late thrombosis, 2 weeks after the 1-year postprocedural medication withdrawal. OCT showed plaque rupture outside the proximal edge of the BVS and regions of underexpansion and breakdown (Figure F and Figure G).
Table.
Clinical and Angiographic Characteristics of Patients With BVS Thrombosis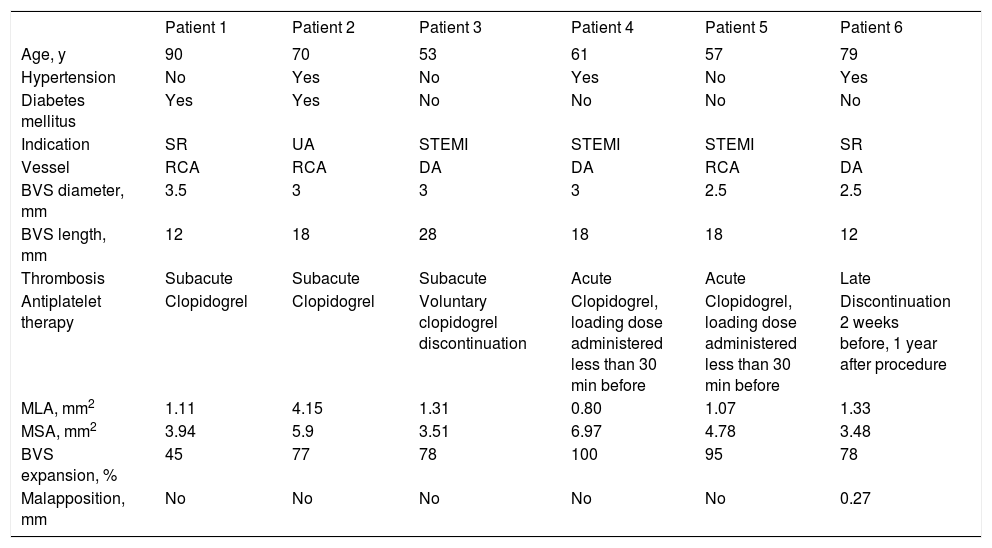 BVS, bioresorbable vascular scaffold; DA, descending anterior coronary artery; MLA, minimal lumen area; MSA, minimal stent area; RCA, right coronary artery; SR, stent restenosis; STEMI, ST-segment elevation acute myocardial infarction; UA, unstable angina.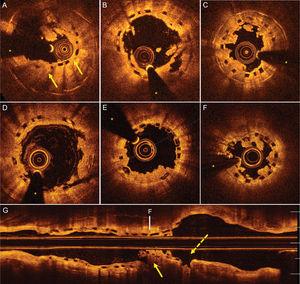 Figure.
Optical coherence tomography images. A: Severe underexpansion of the BVS (arrows). B: Thrombosis at BVS underexpansion in the overlap zone. C: Thrombosis at an underexpanded BVS secondary to voluntary discontinuation of dual antiplatelet therapy. D and E: Acute thrombosis after BVS implantation in the setting of ST-segment elevation acute myocardial infarction; no regions of marked malapposition or underexpansion are visible. F and G: Very late thrombosis after discontinuation of dual antiplatelet therapy in a region of severe underexpansion and breakdown (continuous arrow) with imaging of uncovered plaque rupture adjacent to the BVS (broken arrow). The asterisk indicates the guidewire artifact. BVS, bioresorbable vascular scaffold.
(2.08MB).
Theoretically, BVSs offer the same benefits as next-generation drug-eluting stents, but allow complete restoration of the vessel wall once they have completed their support and antiproliferative functions. Previous studies have described a slight increase in thrombosis rates.1,2 Our series had a thrombosis incidence of 2.1%, slightly higher than that described in various controlled studies. This could be because the implantation was frequently performed under relatively adverse conditions (real-world unselected patients) or for off-label indications. Previous studies have described a higher incidence of thrombosis when these devices are used off-label.5
In our series, all patients received clopidogrel as second antiplatelet therapy. In the 2 patients who had thrombosis in the setting of STEMI, OCT failed to detect any mechanical problem. Because both patients received antiplatelet agents a few minutes before the procedure, the antiplatelet therapy was considered to have been insufficient. Those patients with STEMI who did not have BVS thrombosis were largely treated with ticagrelor or prasugrel, which are more potent and faster-acting antiplatelet agents. In emergency interventions, inadequate anticoagulation therapy can increase the risk of thrombosis of these devices due to their relatively thick structural elements (150μm). In the last patient, clopidogrel was discontinued 1 year after the implantation and the thrombosis occurred 2 weeks later.
The following conclusions can be drawn from this small patient series: a) OCT provides useful information on underlying structural problems and can improve BVS diagnosis and treatment; b) OCT during the first implantation can be useful to detect problems missed by angiography and prevent the development of late adverse events; c) BVS thrombosis might be more frequent in patients with off-label indications; d) in patients treated with BVS, careful attention is required to guarantee optimal antiplatelet therapy. Study is required of the possible value of the new antiplatelet agents or their more prolonged use in patients with a BVS.
FUNDING
This study was partially funded by the 7th European Framework Program PRESTIGE (PREvention of late Stent Thrombosis by an Interdisciplinary Global European effort) (project number: 260309).
Copyright © 2017. Sociedad Española de Cardiología