Full Text
Cardiac pacing at 180 to 200 bpm is an effective means to stabilize the balloon during aortic valvuloplasty and transcatheter aortic valve implantation (TAVI). Classic temporary pacing requires femoral or jugular puncture for placement of the active fixation electrode in the right ventricle (RV). However, effective cardiac pacing can also be achieved using a unipolar electrode in the left ventricle (LV).1 We describe a prospective and consecutive series of 25 patients (Table) who underwent femoral TAVI. Because evaluation by the cardiology team responsible for patient selection revealed that the patients were at high or moderate risk2,3 from conventional valve replacement, they were selected for TAVI, preferably using a minimalist approach (sedation, without systematic transesophageal echocardiography, without previous aortic valvuloplasty, percutaneous femoral occlusion). In addition, implantation of an active fixation electrode in the RV was omitted because, in our first 105 TAVI procedures with expandable balloon (EB) valves, RV perforation occurred in 2 patients and rapid LV pacing was induced through a 0.035" super-stiff guidewire used for the TAVI.
Table.
Patients' Characteristics, Surgical Risk, and 30-day Results
| Patients, n  | 25  |
| --- | --- |
| Age, y  | 79.2 ± 4.6  |
| EuroSCORE II, %  | 5.35 ± 3.9  |
| STS, %  | 5.81 ± 4.2  |
| Previous pacemaker  | 1 (4)  |
| Previous percutaneous coronary intervention  | 6 (24)  |
| NYHA class III/IV  | 11 (44)  |
| Porcelain aorta  | 1 (4)  |
| Chronic kidney disease stage IV/V  | 5 (20)  |
| Edwards-SAPIEN 3  | 19 (76)  |
| Edwards-SAPIEN XT  | 6 (24)  |
| Direct implantation  | 23 (92)  |
| Dysfunctional surgical aortic valve prosthesis  | 7 (28)  |
| Pacing at 180 bpm  | 18 (72)  |
| Pacing at 200 bpm  | 3 (12)  |
| Pacing at 220 bpm  | 3 (12)  |
| Pacing at 240 bpm  | 1 (4)  |
| Pacing failure  | 0  |
| Pacemaker 30 d after the TAVI  | 2 (8)  |
| Tamponade  | 0  |
| Vascular complication  | 1 (4)  |
| Stroke  | 1 (4)  |
| Periprocedural myocardial infarction  | 0  |
| Death  | 1 (4)  |
| TAVI procedure success  | 25 (100)  |
| TAVI success with complications  | 24 (96)  |
EuroSCORE II, European system for cardiac operative risk evaluation; NYHA, New York Heart Association functional class; STS, cardiac surgery mortality risk score of the Society of Thoracic Surgeons; TAVI, transcatheter aortic valve implantation.
Unless otherwise indicated, the data represent No. (%).
All patients had severe aortic stenosis with elective or emergent indication for TAVI or dysfunction of a valve prosthesis previously implanted via aortic valve replacement surgery. Once the aortic valve was crossed with a 5-Fr Amplatz AL1 catheter, the guidewires used were a 0.035" super-stiff wire (Cook; Bloomington, Indiana, United States) precurved in the shape of a pig's tail and placed within the LV or a Safari guidewire (Boston Scientific), which is already spiral-shaped and did not require manipulation. The extreme end of the guidewire was connected to the negative electrode (cathode) of a Medtronic 5348 temporary pacemaker using an alligator clamp while the positive electrode (anode) was connected to the skin of the right inferior extremity using an intramuscular or curved needle and similarly connected by an alligator clamp to the external pacemaker (Figure A). Pacing was performed at between 180 and 240 bpm, with a maximal output and reduced sensitivity. We waited until the blood pressure was reduced to 40mmHg with a pulse wave of about 10mmHg (Figure B) before implanting the Edwards-SAPIEN 3 and Edwards-SAPIEN XT EB-type valves (Figure C), with a 0 to 5mmHg reduction in the systolic gradient of the LV and aorta and no regurgitation (Figure D and video of the supplementary material). In our series, there was 1 incident of complete atrioventricular block that required pacing via the 0.035" guidewire during the time required to implant a temporary pacemaker through a jugular approach to the RV; the patient subsequently required a permanent pacemaker.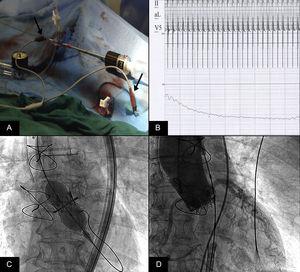 Figure.
A: The left arrow indicates the negative electrode (cathode) connected to the guidewire and the right arrow indicates the positive electrode (anode) connected to an intramuscular needle in the skin. B: Reduction in the aortic pressure curve during rapid left ventricular pacing. C: Expansion of the SAPIEN XT prosthesis with rapid pacing through the guidewire contacting the left ventricle. D: Immediate result after prosthesis implantation.
(1.55MB).
We believe that rapid pacing should not be used when there are predictors of atrioventricular block after TAVI, self-expanding valves are used, or the center has limited experience.5 We have evidence from only 2 publications4,6 that used TAVI guidewire-driven rapid LV pacing. Faurie et al.4 did not report the number of TAVIs with EBs and self-expanding valves but reported an intraprocedural temporary pacing rate due to post-TAVI blocks of 13.8%, estimating a predominance of the self-expanding valve, which does not necessarily involve rapid pacing. In the series by Hilling-Smith et al.,6 permanent pacemaker implantation was required after TAVI in 21.2% of patients, and an EB was used in only 6% of patients. In our prospective and consecutive series, all prostheses used had EBs, and the rapid pacing mode allowed the implantation of valves with EBs, elimination of potential complications due to the need for additional venous punctures, and avoidance of additional problems, costs, and minor risks associated with the creation of arteriovenous fistulas, as well as complications from RV perforation with the active fixation electrode of the temporary pacemaker required for rapid pacing at the time of Edwards-SAPIEN 3 and XT valve implantation. Effective pacing of the LV requires good isolation of the guidewire with the prosthesis insertion device, adequate contact between the guidewire and the LV endocardium, and correct assembly with the pacing system, where the guidewire is used as the cathode and the electrode in the skin as the anode connected to an intramuscular needle or wire in an anesthetized area.
Our series of patients who underwent TAVI with EB supports our continued use of high-support guidewire-driven pacing of the LV as a safe and effective alternative to conventional right ventricular pacing in TAVI.
Copyright © 2017. Sociedad Española de Cardiología