Full Text
Given the anatomical proximity of the liver and gallbladder to the heart, cardiologists should be able to identify certain common conditions affecting these organs that may have significant clinical implications for patient management. Here, we present typical findings with regard to liver echogenicity, size and edges, and focal lesion study.
A normal liver is minimally hyperechogenic or isoechogenic compared with the normal renal cortex1 (Figure 1A and B). The most common cause of hyperechogenic liver (increased liver echogenicity compared with the renal cortex) in routine practice is steatosis, otherwise known as "fatty liver". This can be either diffuse or focal.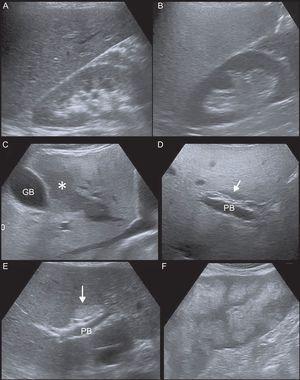 Figure 1.
A: Normal liver echogenicity. B: Increased liver echogenicity (steatosis), with respect to the renal parenchyma. C: Intact hypoechoic area of geographical morphology adjacent to the gallbladder within steatosis (asterisk). D: Area of focal sparing of the liver anterior to the portal bifurcation (arrow). E: Hyperechogenic area of focal steatosis anterior to the portal bifurcation (arrow). F: Areas of patchy steatosis. PB, portal bifurcation; GB, gallbladder.
(0.58MB).
Areas of intact parenchyma are commonly found within diffuse steatosis. These areas are hypoechoic, as they correspond to "islets" of normal liver parenchyma that contrast with the pathological liver (with increased echogenicity due to the fatty infiltration).
Focal areas of fatty infiltration can also be found, ie, areas of increased echogenicity against the background of normal liver parenchyma.1,2
Both the intact parenchymal areas within diffuse steatosis and the areas of focal steatosis in normal liver have geographic borders, are not associated with mass effect, change over time (sometimes quickly), and are usually located in subcapsular or perivesical areas, adjacent to the portal bifurcation and the falciform ligament. They can, however, be found in any location. Occasionally, these areas may resemble nodules/solid masses2 (Figure 1C-F).
Normal liver echogenicity is homogeneous, with fine echoes.1 One of the main causes of heterogeneous echogenicity of the liver is chronic liver disease/cirrhosis (Figure 1 of the supplementary material). Other common conditions leading to heterogeneous echogenicity are patchy steatosis and diffuse tumor infiltration.2
In liver congestion triggered by right-sided heart failure, such as tricuspid regurgitation, a diffuse decrease in liver echogenicity can be observed.
Other typical findings of chronic liver disease/cirrhosis include volume redistribution, with an increase in the caudate lobe, the left lobe, or both, with respect to the right lobe, and liver surface irregularity.1 These findings can occur in patients with Fontan circulation. The irregularity/nodularity of the liver contour is more obvious if there are ascites, which are often present in decompensated liver disease.
Hepatomegaly and dilation of the inferior vena cava and suprahepatic veins are typical findings in liver congestion, such as in tricuspid regurgitation and Ebstein anomaly.
Ultrasound is useful for distinguishing between cystic and solid lesions, whose management tends to differ significantly.
On ultrasound, lesions are defined as a simple cyst when it is anechogenic, with thin, smooth walls and posterior acoustic enhancement. A cystic lesion is complex if it does not fulfil all these characteristics, ie, if it has a thick or irregular wall, with mural nodules, septations, echogenic content, or calcifications. Hydatid cysts and abscesses are typical examples of complex cystic lesions (Figure 2E-H).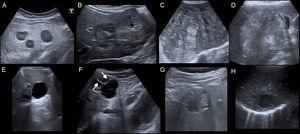 Figure 2.
Variable appearance of metastases on ultrasound. A: Hypoechogenic with hyperechogenic center. B: Heterogenic echogenicity with areas of central calcification (arrow). C and D: Predominately hyperechogenic. E: Simple cyst. F: Complex cyst with septations (arrows). G: Complex cyst with heterogeneous echogenic content and partially calcified wall (hydatid cyst). H: Abscess.
(0.24MB).
A solid nodule can be hyperechogenic, isoechogenic or hypoechogenic with respect to the adjacent parenchyma, it can be homogeneous or heterogeneous, and flow may be detected in the Doppler study, although a negative result does not rule out a solid lesion. If a solid nodule is detected, it should be compared with any previous studies that may be available to evaluate whether it is a new nodule, is stable, or has grown, and it should be correlated with the patient's medical history (eg, history of tumors, hepatitis B or C virus infection, alcoholic cirrhosis) for a decision to be made on the performance of any additional imaging tests.
The benign nodules most commonly observed in practice include hemangioma, which has a typical appearance of a hyperechogenic nodule with well-defined borders.
The 2 most common types of malignant hepatic lesions are metastasis and hepatocellular carcinoma.
There are generally various metastases and their ultrasound appearance is highly variable (hyperechogenic, isoechogenic or hypoechogenic compared with the adjacent parenchyma, and they can be homogeneous or heterogeneous, either with or without a halo, and may even be cystic or have calcifications3,4) (Figure 2A-D).
In most cases, hepatocellular carcinoma is found in a liver with chronic liver disease/cirrhosis. It can present as a solid nodule (or various in the case of multicentric hepatocellular carcinoma) and can be hyperechogenic, isoechogenic or hypoechogenic, occasionally with a halo.3 This would therefore be the first diagnostic possibility upon discovery of a solid nodule in a liver with signs of chronic liver disease/cirrhosis.
With regard to the gallbladder, its normal content is anechogenic. Any echogenic content is pathological and may correspond to stone formation (hyperechogenic images, usually with posterior acoustic shadowing), biliary sludge, blood, pus, or debris. The echogenic content is characterized by its movement with changes in patient position (unless it is very closely adhered to the wall), which differentiates it from the focal thickening dependent on the wall (polyps or masses) (Figure 2 of the supplementary material).
The normal gallbladder wall is smooth, with a thickness of ≤ 3 mm.1 Focal thickening (usually polyps, either single or multiple) and diffuse thickening can be seen in the wall.
Diffuse wall thickening may be due to gallbladder disease (mainly acute cholecystitis) or extracholecystic causes. It is typically identified as a hypoechogenic area between 2 echogenic lines or may have a grooved or layered appearance.
Typical findings in acute cholecystitis include bladder distention, diffuse wall thickening, cholelithiasis or biliary sludge, and positive Murphy sign on ultrasound. Acalculous cholecystitis is much less common and occurs in patients with a long-term, critical condition (eg, patients admitted to the intensive care unit). Diffuse thickening of the gallbladder wall, apart from that caused by inflammation in the context of acute cholecystitis, may be due to extracholecystic causes such as liver dysfunction (associated with alcoholism, hypoalbuminemia, ascites and/or hepatitis), congestive heart failure, renal disease, pancreatitis, mononucleosis symptoms, AIDS, and sepsis5 (Figure 3 of the supplementary material).
By using the basic concepts presented on the most common conditions of the liver and gallbladder, cardiologists can guide the appropriate management of patients undergoing echocardiograms.
Copyright © 2016. Sociedad Española de Cardiología