Full Text
In recent years, the field of cardiovascular surgery has witnessed an increasing use of minimally invasive procedures, aimed at minimizing surgical aggression and favoring patient recovery. Minimally invasive surgery has been shown to offer comparable safety and survival outcomes to conventional surgery, as well as a lower incidence of postoperative bleeding and shorter hospital stays.1
The increasing use of minimally invasive surgery for the implantation of long-term left ventricular assist devices (LVADs) has been favored by the smaller size of new models. Apart from improving cosmetic outcomes, minimally invasive LVAD implantation has been found to reduce postoperative bleeding rates and hospitalization time, resulting in considerable cost savings and similar short- and long-term survival outcomes to those seen in conventional surgery.2 Minimally invasive and percutaneous approaches are also being increasingly used for the implantation of short- and intermediate-term VLADs.3 The conventional approach for intermediate-term centrifugal biventricular assist device (BiVAD) implantation is median sternotomy. We present a case in which a Levitronix CentriMag BiVAD was implanted using minimally invasive surgery.
A 60-year-old man with a history of idiopathic dilated cardiomyopathy with severe left ventricular dysfunction was admitted for heart failure with signs of systemic congestion and decreased cardiac output. Despite treatment with vasoactive amines, diuretics, and ultrafiltration, the patient's condition deteriorated and he remained at level 3 of the INTERMACS (Interagency Registry for Mechanically Assisted Circulatory Support) scale. Clinical and echocardiographic findings also showed right ventricular systolic dysfunction. In view of this situation, it was decided to implant a BiVAD.
Left axillary artery cannulation was performed via end-to-side anastomosis of a 10-mm Dacron graft into which a Medtronic EOPA arterial cannula (18-Fr) was inserted. A 34-Fr Levitronix CentriMag LVAD return cannula (Abbott) was implanted via left anterior minithoracotomy. This was followed by percutaneous placement of a right ventricular assist device (RVAD) in the pulmonary vein and insertion of a drainage cannula in the right femoral vein; a 17-Fr return cannula (Bio-Medicus, Medtronic) was directed through the right jugular vein to the main pulmonary artery, before the bifurcation, following the procedure recently described by Uribarri et al.4 This approach, consisting of percutaneous placement of the RVAD and minimally invasive implantation of the LVAD, reduced the degree of surgical aggression required to achieve circulatory support (figure 1 and figure 2). Amines were withdrawn after 24hours of BiVAD support and the patient was extubated at 96hours and placed on a waiting list for an urgent heart transplant. The heart transplant was performed 7 days later, and in the absence of significant postsurgical complications, the patient was discharged home at 21 days.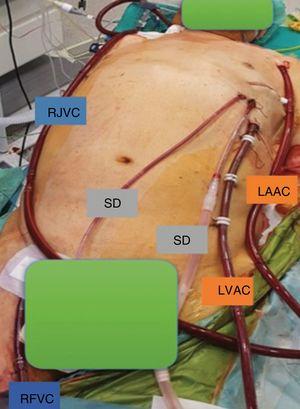 Figure 1.
Cannulation and drainage setup following biventricular assist device implantation. LAAC, left axillary artery cannula (left ventricular assist device [LVAD] return cannula); RFVC, right femoral vein cannula (right ventricular assist device [RVAD] drainage cannula); LVAC, left ventricular apex cannula (LVAD drainage cannula); RJVC, right jugular vein cannula (RVAD return cannula); SD, surgical drain.
(0.17MB).
BiVAD implantation by minimally invasive surgery offers an alternative to conventional median sternotomy. It is associated with a lower incidence of bleeding and infectious complications, and in the case of heart transplant patients, reduces the risk of perioperative complications, largely by eliminating the need for 2 median sternotomies.
Percutaneous RVAD placement allows for the addition of an oxygenator to the VAD circuit to provide circulatory and respiratory support to patients who experience respiratory deterioration. In such cases, anticoagulation is necessary. In addition, if the patient shows good respiratory and right ventricular recovery, the RVAD can be removed at the bedside, eliminating the need for surgical decannulation.
In conclusion, minimally invasive surgery for BiVAD implantation carries a lower risk of complications than median sternotomy and could provide an alternative for critically ill patients who are potential candidates for heart transplant.
Copyright © 2020. Sociedad Española de Cardiología