Full Text
The atrial switch procedure (Senning or Mustard technique) was the surgical standard of care for patients with D-transposition of the great arteries during the 1970s and 1980s. This intervention achieved redirection of systemic venous blood flow to the left ventricle (subpulmonary) and of the pulmonary venous flow to the right ventricle (systemic) by means of an atrial baffle. Interest in this topic is mainly due to the large number of patients currently being followed up after these interventions. The long-term complications of the atrial switch procedure are mainly related to right ventricular dysfunction, atrial bradyarrhythmias and tachyarrhytmias, pulmonary hypertension and baffle problems (leaks and/or obstructions).1,2 Baffle leaks have traditionally been surgically treated.3,4
The main aim of our report is to describe the percutaneous approach for the treatment of baffle leaks and its clinical medium-term results in a tertiary hospital. From 2005 to 2012, percutaneous closure of 9 baffle leaks was indicated in 8 patients. All patients gave informed consent. Our study had a priori approval by the ethics committee.
All procedures were performed under general anesthesia, and closure was guided by transesophageal echocardiography and biplane fluoroscopy. Vascular accesses were as follows: femoral vein and artery in 6 patients, femoral artery only in 1 patient, and humeral artery and vein in another patient. All patients were heparinized. Hemodynamic study and angiography were performed. Data of the leak size was obtained with echocardiography and balloon sizing using the "stop-flow technique", and the size and type of the device used were selected on a case by case basis by evaluating all the measurements.
The Wilcoxon test was used for nonparametric tests of paired samples when analyzing the pre- and postprocedural data, and the statistical analysis was performed in SPSS for Windows v. 13.
The Figure shows the angiographic and echocardiographic findings before and after closure. The Table shows a summary of the baseline data and procedural details. Eight patients underwent catheterization. The patients with pulmonary overcirculation were in New York Heart Association (NYHA) class I-II with a mean QP/QS of 2.9 (range, 1.6-6) and echocardiographic dilation of the subpulmonary ventricle. Cyanotic patients had a mean resting saturation of 84% (range, 73%-92%) with erythrocythemia (mean hemoglobin, 17.8g/dL [range, 14.4g/dL-20g/dL]). The mean age at catheterization was 30 years (range, 22-37). The leaks were mainly located in the connection of the 2 limbs of the venous baffle.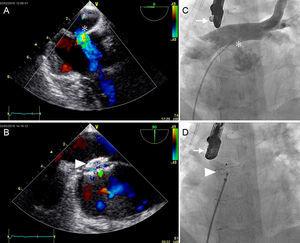 Figure.
A: Intraprocedural transesophageal echocardiography with an intense Doppler signal showing a predominantly left-to-right shunt through the baffle leak (asterisk). B: Final result after closure with the occluding device (arrowhead), a minimal intradevice residual shunt is seen. C: Angiographic intraprocedural imaging (arrow, transesophageal echocardiography); posteroanterior angiography showing a pig-tail catheter placed in the pulmonary vein baffle from the inferior vena cava and through the baffle leak (asterisk). Angiography shows an important left-to-right shunt. D: Final placement of the occluding device (arrowhead) (ADO Amplatzer®) in the same patient.
(0.23MB).
Table.
Clinical and Procedural Data (n = 8)
 
Patient
 
1 
2 
3 
4 
5 
6 
7 
8 
Sex 
F 
F 
M 
M 
M 
M 
F 
M 
Age, y 
33 
37 
32 
22 
29 
33 
29 
23 
Previous surgery 
Mustard 
Mustard 
Sening 
Sening 
Sening 
Mustard 
Mustard 
Sening 
Indication 
Overcirculation 
Cyanosis 
Cyanosis 
Overcirculation 
Overcirculation 
Overcirculation 
Cyanosis 
Overcirculation 
Procedure results 
Success 
Success 
Success 
Success 
Failed 
Success 
Failed (migration) 
Success 
NYHA status pre 
1 
2 
3 
2 
1 
2 
3 
1 
NYHA status post 
1 
1 
1 
1 
1 
1 
2 
1 
Baseline Sat O

2

 
98 
92 
86 
92 
94 
98 
73 
97 
Post-Procedure Sat O

2

 
98 
97 
97 
96 
96 
98 
96 
98 
PAP, s/d/m 
21/9/15 
18/8/13 
23/6/14 
50/29/36 
27/13/17 
22/11/16 
18/8/11 
25/4/11 
TEE sizing, mm 
15 
11 
9 
10 
26 
23 
34 
N/A 
Balloon sizing, mm 
15 
14 
9 
No 
26 
24 
34 
15 
QP/QS 
2 
1.14 
0.69 
1.6 
1.8 
6 
N/A 
3 
Device 
ASO 13 + ADO II 6 
ASO 12 
ASO 9 
ASO 11 
No device 
ASO 28 
ASO 34 
ASO 18 
Fluoroscopy time, min 
32 
29 
49 
15 
12 
85 
87 
58 
Fluoroscopy dose, Gy/cm

2

 
138 
128 
253 
160 
1178 
1134 
5196 
3480 
Contrast volume, mL 
250 
240 
100 
110 
385 
310 
291 
300 
Procedure time, min 
167 
125 
211 
145 
395 
356 
408 
356 
F, female; M, male; NYHA, New York Heart Association; Sat O2, arterial oxygen saturation; PAP, pulmonary artery pressure (systolic, diastolic, mean).
Six of the 8 procedures (75%) were successful. Seven Amplatzer-ASO® and 1 Amplatzer-ADO® (St Jude Medical, St Paul, Minnesota, USA) were placed in 7 patients.
Failures: In patient 5, it was impossible to achieve a correct position of the device. Complications: Patient 7 had a large baffle leak closed with a 34-mm device after a careful stability check. The 24-hour echocardiographic follow-up showed device migration to the left atria and percutaneous retrieval was successful.
The median follow-up of the patients after the procedure was 43 months (ranging from 12-94 months). All patients who were treated percutaneously were in NYHA class I after the procedure. In the 2 cyanotic patients, desaturation was immediately corrected (mean postprocedural oxygen saturation (Sat O2) of 97%; range, 96%-98%) and correction of erythrocythemia was also observed (mean postprocedural Hb, 13.3g/dL). No recurrence of the baffle leak has been seen in the follow-up.
Several case reports and some series have described percutaneous techniques to relieve obstruction of venous baffles and closure of baffle leaks,5 the largest being that of Daehnert et al6 with 14 patients treated with stents and ASO devices. In contrast with other series, our report shows patients treated because of overcirculation. Aggressive treatment in these patients seems reasonable because they can develop pulmonary hypertension.
The limitations of our report are related to its retrospective design and the lack of control groups.
Percutaneous closure of baffle leaks after an atrial switch procedure for D-transposition of the great arteries is feasible and has a high success rate. It produces immediate clinical improvement, but the anatomy of the leaks makes the procedure complex. Our data suggest that percutaneous closure of baffles is a safe procedure and the medium-term follow-up demonstrates no recurrences of the leaks and good clinical status.
Copyright © 2014. Sociedad Española de Cardiología