Full Text
The use of radial access for catheterization and cardiac intervention is becoming increasingly popular, mainly because of its lack of complications.1 Radial artery pseudoaneurysm (RAp)2 is an extremely rare complication, so many of its clinical features are unknown and treatment is not systematic. In the few reported cases of RAp, surgical repair was the most commonly used treatment,3 although recently there have been reports of successful nonsurgical treatment in single patients.4,5 During the period 2004-2013, we prospectively collected all cases of RAp occurring in our center. In this article, we describe their clinical characteristics and outcomes following initial nonsurgical treatment.
During this period, 16 808 catheterizations were performed (96.5% transradial), and 5 radial artery RAp were detected (incidence, 3 of 10 000 catheterizations). The Table shows the characteristics of the RAp and the treatment applied. All cases presented as a pulsatile erythematous mass at the puncture site (Figure A). One patient (case 5) presented with pulsatile bleeding through an ulceration/erosion of the RAp. In another patient (case 4) we observed crusted erosion of the RAp without spontaneous bleeding (Figure A). All RAp were confirmed by vascular ultrasound (Figure B). The most common factors associated with the occurrence RAp were the use of coumarin anticoagulation during the procedure (4 patients) and the occurrence of hematoma in the forearm during/after compression (4 patients). Nonsurgical treatment was effective in all patients (mechanical compression was successful in 3 and failed in 2; in these patients, thrombin injection was performed, occluding the RAp in both). Direct mechanical compression of the RAp resulted in iatrogenic rupture of the outer wall (Figure C) in 2 patients (cases 2 and 5). In one patient (case 2), thrombin injection produced acute occlusion of the radial artery, which was asymptomatic.
Table.
Clinical Characteristics of the Series
 
Case 1 
Case 2 
Case 3 
Case 4 
Case 5 
Age, y 
55 
76 
79 
88 
81 
Sex 
Male 
Male 
Male 
Male 
Female 
Body surface, m

2

 
1.9 
1.8 
1.9 
1.8 
1.7 
Anticoagulation with coumarin 
Yes 
Yes 
Yes 
No 
Yes 
Anti-GPIIb/IIIa 
No 
No 
No 
No 
No 
Sheath size, Fr 
6 
6 
5 
6 
6 
Diagnosis time, d 
15 
5 
4 
17 
10 
Clinical features apart from pulsatile swelling 
No 
No 
No 
Encrusted lesion at the apex 
Ulceration with spontaneous bleeding 
Interruption of OAC during procedure 
No 
No 
No 
Not applicable 
No 
Prolonged direct mechanical compression (> 12 h) 
With pneumatic device 
With pneumatic device 
With pneumatic device but only 5 h 
With pneumatic device 
With direction compression with the echo probe 
Initial success 
No 
No 
Yes 
No 
No 
Complications 
No 
Rupture of RAp 
No 
No 
Rupture of RAp 
Final treatment 
Compression with elastic bandages 48 h 
Thrombin injection 
Not recorded 
Thrombin injection 
Compression proximal to the RAp 
Interruption of OAC during follow up 
Yes 
No 
Not applicable 
Not applicable 
Yes 
Ultimately successful 
Yes 
Yes 
Yes 
Yes 
Yes 
Complications 
None 
Asymptomatic radial occlusion 
None 
None 
None 
OAC, oral anticoagulants; Anti-GPIIb/IIIa, glucoprotein IIb/IIIa inhibitors; RAp, radial artery pseudoaneurysm.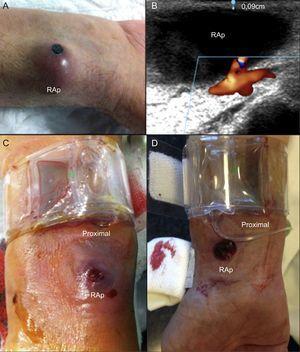 Figure.
A: Erythematous mass. Note the encrusted erosion of the radial artery pseudoaneurysm (RAp) at its apex. B: Thin outer wall of RAp (0.9-mm thick). C and D: Radial pneumatic compression proximal to the RAp. Distally, both RAp are visible, including their ruptured outer wall. Note: Figure D corresponds to the RAp of a patient in the intensive care unit (not in our series) who has recently been successfully treated with proximal compression, as described in the recommendations.
(0.43MB).
With this series of radial artery RAp, the most extensive published to date, we highlight 3 as yet undescribed features that we consider important for preventing and treating future cases:
1.

The presence of a hematoma in the forearm during/after compression (probably due to inadequate compression), along with the presence of predisposing factors (anticoagulation), is a risk factor for radial artery RAp. Patients with this easily recognizable complication, especially those undergoing anticoagulant therapy, should undergo clinical monitoring to confirm or rule out RAp.

2.

RAp are very fragile. The layer of tissue separating them from the exterior is extremely thin (average thickness in our series, 1 [0.9-1.2] mm) (Figure B) and can rupture, resulting in external bleeding. This rupture may be spontaneous or iatrogenic (on applying direct mechanical pressure to the RAp). Unlike its homonym, the communication of a femoral RAp with the exterior is rare, probably because of the thick layer of tissue separating it from the outside.

3.

Nonsurgical treatment is an alternative to surgical treatment. In our series, 100% of cases were resolved conservatively.
Despite the small number of cases in this series, we propose some recommendations based on our experience, in order to prevent and treat future radial artery RAp:
1.

Prevention is key. For anticoagulated patients, we recommend firm and more prolonged compression of the puncture point, as well as a thorough exploration of the puncture site and forearm after compression. If a hematoma appears, the patient should be informed of the signs of radial artery RAp that should be reported, to allow an early diagnosis.

2.

If the patient does develop radial artery RAp, we recommend conservative treatment initially (without anticoagulating the patient, if possible) using compression with a pneumatic device applied against the radial artery proximally to the RAp (Figures C and D) and not directly against the RAp (as is done currently, imitating the treatment of femoral RAp). In this way, potential iatrogenic rupture of the RAp is avoided. This proximal compression must be occlusive. Because of the possibility that blood may enter the RAp through the palmar arch via the ulnar artery, the absence of flow in the RAp must be verified by vascular ultrasound, or if not possible, by palpation (absence of pulsatility). We then recommend using a finger to apply direct but mild compression against the RAp in order to expel the blood from the cavity into the radial artery and collapse it (using this simple digital compression, it can be observed that the swelling disappears completely). Once the RAp has collapsed (it is now flat), we recommend applying a semicompressive bandage directly over it. After proximal occlusive compression of the RAp for 3 to 4hours, we then recommend a semiocclusive compression (of the RAp and proximally) for an additional 24hours. Due to the risk of external breakage, we recommend hospitalization for the following 24hours.

3.

If the above is ineffective, we recommend treatment with ultrasound-guided injection of thrombin (1mL, 500 IU).

4.

Surgery should be reserved for cases in which this more conservative management strategy has not been effective.
Copyright © 2014. Sociedad Española de Cardiología