Full Text
Transcatheter aortic valve implantation (TAVI) is now the standard of care for appropriately selected inoperable and high-risk patients with severe aortic valve stenosis. Recently, this procedure was also shown to be an alternative to surgical aortic valve replacement (SAVR) in intermediate-risk populations, and randomized studies will soon be underway for its use in low-risk patients.1–6 As the technology expands to include younger and lower-risk populations, there is increasing focus on the reduction of procedural complications, including neurologic events, which are particularly devastating. In a recent article published in Revista Española de Cardiología, Abdul-Jawad Altisent et al.7 nicely summarize the issues surrounding the identification, quantification, and prevention of strokes during TAVI, including a discussion of the evidence for embolic protection devices, and current uncertainties about their clinical use in the future.
It is important to note that contemporary data strongly indicate that the risk of stroke complicating TAVI is likely equivalent and possibly lower compared with that in similar patients who undergo SAVR. The now debunked notion that TAVI carries a higher risk of stroke than SAVR predominated after the first randomized PARTNER IA trial that compared TAVI using the first generation SAPIEN valve (Edwards Lifesciences) with SAVR for patients at high surgical risk. This study showed a 2-fold increased risk of the composite of stroke or transient ischemic attack (TIA) within 30-days in the TAVI group (5.5% vs 2.4%; P = .04), although the rate of major stroke was not statistically different (3.8 vs 2.1%; P = .20).2 Fortunately, this initial concern has not been substantiated in subsequent studies. A study of the self-expanding CoreValve system (Medtronic Inc.; Minneapolis, Minnesota, United States) showed no difference in the 30-day stroke rate in high-risk patients randomized to TAVI vs SAVR (4.9% vs 6.2%; P = .46).4 Similarly, the recently published PARTNER II study showed no difference in the stroke rates among intermediate-risk patients randomized to TAVI with the SAPIEN XT (Edwards Lifesciences) vs SAVR (5.5% vs 6.1%; P = .57), nor differences in the rates of disabling stroke (3.2% vs 4.3%; P = .20).6 Furthermore, data from the SAPIEN 3 valve (Edwards Lifesciences) demonstrated further improvements in the incidence of stroke at 30-days, occurring in 1.5% of patients in the inoperable/high-risk cohort, and 2.6% of patients in the intermediate-risk cohort.5 When compared with a nonrandomized, "as treated", propensity-matched cohort of patients assigned to SAVR from the PARTNER IIA trial, TAVI was found to be superior to surgery for the risk of stroke (–3.5% [–5.9 to –1.1]; P = .0038).5 The differences in results between the PARTNER IA and subsequent studies can be explained by the fact that routine neurological assessment was not required in the PARTNER IA study but was mandatory in subsequent studies.
Despite the results of these randomized and propensity matched trials, stroke remains a concern for patients undergoing TAVI. Furthermore, many authors have suggested that the event rates with SAVR are actually much lower than those reported in contemporary trials, and point to the 2008 report from the Society of Thoracic Surgeons database, which indicates an estimated stroke risk for isolated aortic valve surgery of 1.5%.8 It is important to note, however, that this includes patients of all ages and risk scores, and that these represent site-reported events that may not be accurate. Reflective of this fact is a prospective study that classified stroke based on pre- and postsurgical evaluation by a neurologist among patients aged ≥ 65 years undergoing SAVR, and identified 34 clinical strokes among 196 patients, of which only 13 were found to be correctly reported in the Society of Thoracic Surgeons database.9 Furthermore, silent cerebral infarcts, as detected by diffusion-weighted magnetic resonance imaging (DW-MRI) are not unique to patients undergoing TAVI, and one study demonstrated subclinical events in up to 47% of patients undergoing SAVR.10 Therefore, this underlines the need for accurate and standardized ways to measure neurologic events in patients undergoing both TAVI and SAVR.
The development of the VARC (Valve Academic Research Consortium) guidelines has been an extremely important step toward consistency in measuring endpoints in the valve literature but has some limitations in the evaluation of neurologic events.11 As discussed by Abdul-Jawad Altisent et al., some studies have reported combined endpoints of any TIA and/or stroke, and some more specifically separate disabling from nondisabling strokes. Furthermore, the incidence and importance of subclinical neurologic events, including silent embolic phenomena as detected by DW-MRI, and changes in more subtle, neurocognitive measurements have so far not been integrated into current guidelines. Perhaps the most appropriate way to mitigate these issues is to adapt future guidelines to better reflect the broad spectrum of neurologic endpoints that we are currently measuring. Rather than seeking a single, all-inclusive definition for stroke after TAVI, a more effective way to classify events may be to separately categorize events as clinical stroke, TIA, silent infarction, and neurocognitive impairment (Table). This is increasingly important, given the extremely low rates of clinical strokes that are being reported in the most recent trials, and allows for a standardized approach to evaluating stroke reduction strategies such as cerebral protection devices, which would require extremely large trials to be powered to show statistically significant reductions using clinical stroke definitions alone.
Table.
A Proposed Method for the Definition of Neurological Events After Transcatheter or Surgical Aortic Valve Replacement Separating Silent Events and Neurocognitive Impairment Into Separate Categories
Definition 
Clinical findings 
Neuroimaging 
Stroke:
Ischemic
Hemorrhagic
Undetermined 
Clinical syndrome of focal or global neurological deficit with no other clearly identifiable cause 
Requires confirmation by either a neurologist or neuroimaging procedure 
Transient ischemic attack 
Clinical syndrome of focal or global neurological deficit with no other clearly identifiable cause 
Resolves within < 24hours and neuroimaging does not show a corresponding finding 
Silent neurological event 
No clinical syndrome of neurological deficit 
Neuroimaging or pathology shows an acute, ischemic central nervous system lesion 
Neurocognitive impairment 
Diagnosis based on dedicated, pre- and postprocedural neurocognitive testing 
Does not require neuroimaging. This may overlap with some patients classified as "silent" 
Perhaps the most positive development that has ensued from the early concerns over embolic events during TAVI has been a commitment to the study of stroke reduction strategies including antiplatelet regimens, anticoagulant regimens, and embolic protection devices. Embolic protection is an especially attractive approach for a number of reasons. The first is the knowledge that these devices appear to result in a meaningful reduction in the number and/or volume of new DW-MRI lesions after TAVI, especially those lesions that can be located to the protected vascular territories.12,13 Next is the identification of significant debris in 19 of the 35 SENTINAL embolic protection filters (Claret Medical) used in the initial clinical trial, and 86% of the 81 patients studied in a subsequent trial, proving that debris do arrive in the carotid arteries, even in patients who do not sustain clinical stroke.14 The ongoing, pivotal SENTINAL trial has completed enrollment and the results from more than 350 patients are expected soon, but in the interim, TAVI operators and patients are left wondering what the future role of these devices will be.
Abdul-Jawad Altisent et al. point out that carotid artery embolic protection has long been the standard of care in carotid artery stenting (CAS), despite the absence of randomized trials showing reductions in hard clinical endpoints and, while it is true that filter protection itself may be similar in outcomes to other embolic protection strategies such as proximal balloon occlusion for CAS, embolic protection of some form is now ubiquitous for CAS, and is even mandatory for reimbursement from the Centers for Medicare and Medicaid Services in the United States. The question for TAVI is thus, what level of evidence will be required before embolic protection similarly becomes incorporated into standard practice. Some might argue that devices be reserved for patients at high risk for neurological events, but an analysis of data from the PARTNER trial was only able to identify a smaller aortic valve area as an independent predictor for early stroke after TAVI.15 Similarly, a study of the incidence and predictors of debris found in the SENTINAL filter during TAVI identified only the use of balloon-expandable valves and a high cover index as independent predictors on multivariable logistic regression analysis.14 Thus, it is nearly impossible to predict which patients will suffer a significant embolic stroke.
It remains to be determined whether the use of embolic protection devices becomes the standard of care during TAVI as it has become for use during CAS. Certainly, the results of these ongoing clinical trials will further guide adoption, and will be central to the approval process for the United States Food and Drug Administration. Assuming that the current trials continue to show device safety and at least a reduction in events as measured by DW-MRI, it is hard to imagine that an embolic protection strategy does not become in some way an integral part of the TAVI process. Despite difficulties in predicting events, some individuals would appear to be at a particularly elevated risk for events, one such example being patients with a known, mobile atheroma. The Figure shows one such case in which mobile atheroma was present on a calcified aortic valve, but unfortunately a dedicated, commercially-available option for an embolic protection system did not exist. Thus, cerebral protection was obtained by the placement of bilateral carotid artery filter wires and bilateral subclavian artery balloon occlusion. While this case clearly highlights the need for dedicated systems in extremely high-risk patients, it will be just as difficult to withhold embolic protection from the patients who are at apparently normal risk for events.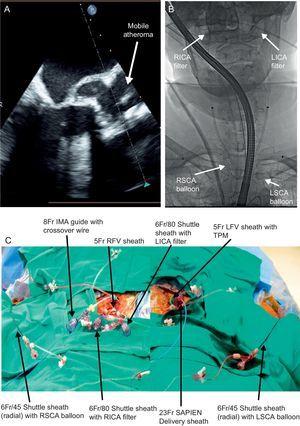 Figure.
Embolic protection strategy in a particularly high-risk patient without any commercially available system. A: mobile atheroma is present on the calcific aortic valve leaflets. B: to protect the internal carotid arteries, two 6 Fr and 80-mm Shuttle sheaths were placed in the right common femoral artery to allow placement of bilateral internal carotid artery filter wires. Bilateral radial artery access was obtained with 6 Fr and 45-mm Shuttle sheaths, and balloons placed in the right and left subclavian arteries to protect the vertebral systems at the time of valve deployment as seen by fluoroscopy. C: the multiple radial and femoral sheaths are shown by external photograph. IMA, internal mammary artery; LFV, left femoral vein; LICA, left internal carotid artery; LSCA, left subclavian artery; RICA, right internal carotid artery; RSCA, right subclavian artery; RFV, right femoral vein; TPM, temporary pacemaker.
(0.69MB).
We agree with the authors that with time and further study, we will have a better understanding of the risks and benefits of cerebral embolic protection devices as well as the clinical implications of silent cerebral infarctions and cognitive decline after TAVI. Hopefully, these efforts combined with the study of pharmacologic strategies, as well as the management of associated factors such as postprocedural atrial fibrillation, will continue to reduce the risk of neurological events associated with TAVI.
CONFLICTS OF INTEREST
None declared.
Copyright © 2016. Sociedad Española de Cardiología