Full Text
Cytomegalovirus (CMV) infection is associated with significant morbidity and unfavorable outcomes in transplant recipients. Clinical resistance to classic anti-CMV drugs (ganciclovir, valganciclovir, foscarnet and their combinations) and the occurrence of unacceptable adverse events may confront attending physicians with seemingly insoluble situations. Maribavir, a novel benzimidazole antiviral agent, may be of help in this setting.
We report the case of a 45-year-old male recipient of a CMV D-/R+ heart transplant. Immunosuppression consisted of basiliximab induction (2 doses) and triple therapy with tacrolimus, mycophenolate mofetil, and prednisone. Since he was not at high risk for CMV, a preemptive therapy strategy was planned.
Four weeks after heart transplantation, the patient developed mild fever, abdominal pain, and diarrhea. Physical examination revealed hepatosplenomegaly. Cytomegalovirus viral load (COBAS® AmpliPrep/COBAS® TaqMan® CMV test) was 4270 copies/mL. He was treated with intravenous ganciclovir (5mg/kg twice daily) for 3 weeks, with no improvement in his symptoms or CMV viremia. Foscarnet (60mg/kg once daily iv) was added, and mycophenolate was switched to azathioprine to decrease diarrhea.
After 3 additional weeks of combined anti-CMV treatment, there was clinical improvement, with resolution of diarrhea and 2 low-indeterminate CMV loads (< 150 copies/mL). Moderate generalized muscle cramps and hypocalcemia were attributed to foscarnet. Anti-CMV therapy was switched to oral valganciclovir (900mg twice daily). Two weeks later, the diarrhea resumed, with persistently low CMV PCR loads. A colonoscopy confirmed CMV colitis (Figure), and viral load increased to 7500 copies/mL. Baseline immunosuppression was changed: tacrolimus and azathioprine were replaced by a combination of cyclosporine and everolimus. Foscarnet (55mg/kg once daily iv) was added to oral valganciclovir. Again, muscle cramps and hypocalcemia developed, with worsening renal function (Creatinine: 3mg/dL) and neutropenia (2.200 leukocytes/mm3) associated with foscarnet and valganciclovir. Because of clinical resistance to different combinations of anti-CMV therapies over 10 weeks and drug toxicities, we decided to initiate oral maribavir (200mg/8h) as an off-label therapy, with a baseline viral load of 1680 copies/mL. Three weeks later, CMV PCR counts were reduced to <150 copies/mL and the diarrhea disappeared. Maribavir was maintained for 2 additional weeks with no significant adverse effects. The patient has remained asymptomatic and his CMV PCR determinations were negative for the ensuing 6 months.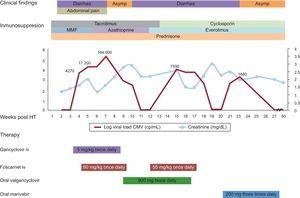 Figure.
Timeline of clinical findings, treatment and cytomegalovirus viral load. Cytomegalovirus plasma viral loads and renal function are shown as weekly values.
Abd, abdominal; Asymp, asymptomatic; CMV, cytomegalovirus; HT, heart transplantation; i.v., intravenous; MMF, mycophenolate mofetyl.
(0.28MB).
Cytomegalovirus infection is common after solid organ transplantation and may result in significant morbidity, graft loss, and adverse events. As illustrated by our case, suspected gastrointestinal involvement (diarrhea) should prompt an endoscopy with mucosal sampling, since viral load in peripheral blood may be undetectable.
Antiviral drug resistance is suspected when there is no improvement (or there are relapses) in CMV viremia or clinical symptoms after prolonged antiviral therapy (≥ 6 weeks).1 Currently, most cases of drug resistance can be explained by mutations in genes encoding DNA kinase UL97 and UL54 DNA polymerase, which are enzymes involved in viral replication. However, only a minority of them are genetically confirmed, because these tests are expensive and not available in all centers.
Some experimental anti-CMV agents are used in cases of CMV infection resistant to traditional drugs.
Maribavir is an experimental anti-CMV drug that directly inhibits UL97 kinase, has strong anti-CMV activity, good oral bioavailability and a favorable toxicity profile. Small case series2,3 have shown successful use of high doses of maribavir (800-1600mg/day) for drug-resistant infection in solid organ transplant recipients, with occasional cases of resistance. The most frequently reported secondary effect is taste disturbance (bitterness), and less common effects are gastrointestinal (diarrhea, nausea and vomiting) and rash, which has resulted in discontinuation of treatment in some cases.
Letermovir is an UL56 inhibitor that inhibits viral replication with in vitro anti-CMV activity and a single case of a bipulmonary transplant has been published4 with invasive multi-resistant CMV disease in which letermovir was successfully used without adverse effects.
Leflunomide, a drug used for rheumatoid arthritis, has been found to have anti-CMV activity in addition to its immunosuppressive activity. Successful use of leflunomide has been reported,5 mainly in cases with low viral load and without severe disease. The optimal dose is unknown and the main adverse effects are diarrhea, anemia, and hypertransaminasemia.
CMX001 produces high intracellular levels of the active antiviral agent cidofovir diphosphate, with anti-CMV effects in vitro6 and in hematopoietic cell transplant recipients and without the nephrotoxicity of cidofovir. Optimal dosing has yet to be determined, and diarrhea is a dose-limiting adverse effect.
There are other experimental drugs with in vitro anti-CMV activity with a good safety profile: BAY384766 and GW275175X.
As shown in our case, maribavir is a good alternative when traditional drugs fail in the treatment of drug-resistant CMV infection in combination with changes in immunosuppression (with introduction of everolimus and reduction in overall potency).
Copyright © 2015. Sociedad Española de Cardiología