Full Text
Transcatheter aortic valve implantation (TAVI) via the transfemoral route appears to improve survival and cause fewer complications than transapical implantation. Whenever possible, the transfemoral route should therefore be the first choice.1
Developments to facilitate peripheral access include the use of a contralateral guidewire2 and the smaller profile and improved navigability of the new introducers. Together with increased operator experience, these advances have improved procedure safety and reduced the number and severity of vascular complications.3
The range of patients who can benefit from transfemoral TAVI has been extended by progressive reductions in the delivery system profile. However, in a high proportion of patients, the peripheral access route is below the minimum 5.5mm diameter. These peripheral vascular disease patients often have comorbidities that increase surgical risk,4 and consequently are either excluded from surgery or undergo intervention associated with a very high mortality rate.5 This high risk profile makes transfemoral TAVI an especially attractive strategy in these patients.
Here, we describe our experience with transfemoral TAVI in patients with severe peripheral vascular disease and artery access diameter < 5.5 mm. A series of 57 consecutive patients underwent transfemoral TAVI with an expandable balloon prosthesis (Edwards-SAPIEN XT in the first 9 patients and Edwards-SAPIEN 3 in the remaining 48).
In total, 7 patients undergoing transfemoral TAVI had arterial access < 5.5 mm (12.3%). All 7 patients had major comorbidities, and 4 had a history of heart surgery. The mean EuroSCORE for these patients was 14.1±11.1 (Table).
Table.
Baseline Clinical and Procedural Characteristics
 
1 
2 
3 
4 
5 
6 
7 
Age, y 
79 
84 
78 
77 
73 
81 
79 
Sex 
F 
F 

M

 

M

 

M

 
F 
F 
EuroSCORE (%) 
19.6 
6.8 
14.2 
7.7 
36.4 
7.3 
6.4 
Peripheral vascular disease 
Yes 
Yes 
Yes 
Trouser-like iliac stenting 
Yes 
No 
Yes 
Minimum femoral diameter, mm 
4.3 
4.7 
4.8 
2.4 
3.8 
5 
5.5 
Calcification score (1-4) 
4 
3 
4 
3 
4 
4 
3 
Previous heart surgery 
Yes 
Yes 
Yes 
No 
Yes 
No 
No 
Valve type 
S3 
S3 
S3 
S3 
S3 
XT 
XT 
Size 
23 
23 
26 
26 
23 
26 
29 
Sheath (Fr) 
14 
14 
14 
14 
14 
18 
20 
Complications 
Advanta stent 
No 
No 
No 
TIA 
No 
No 
F, female; Fr, French; M, male; S3, Edwards-SAPIEN 3 prosthetic valve; TIA, transitory ischemic accident; XT, Edwards-SAPIEN XT prosthetic valve.
In all patients except 1, a guidewire was introduced from the contralateral femoral artery, as described previously.2 In 4 patients, balloon angioplasty was carried out at the start of the procedure at the level of the left or right common iliac artery; the procedure was performed with an 8×40mm Wanda balloon (Boston Scientific, Ratingen, Germany) in 3 patients and with a nonexpandable 5×15mm Euphora balloon (Medtronic) in the other patient.
In 3 patients, we also took advantage of the dynamic expansion mechanism available with the Edwards eSheath and the Novaflex + delivery system: the whole system was withdrawn to a region of wider diameter as the valve was advanced, allowing introduction of the delivery system through the narrower segment.
In 1 patient with severe peripheral vascular disease and trouser-like stenting at the iliac bifurcation, the distal iliac border of the stent was supported by balloon angioplasty during sheath introduction (Figure). In all patients, percutaneous closure was achieved with the Prostar XL system (Abbott Vascular; Santa Clara, California, United States). In 1 patient, active bleeding was observed at the end of the procedure; the failure of the Prostar XL system in this patient was likely due to large-scale vessel calcification impeding wound suturing. The hemorrhage resolved immediately upon implantation of a 10×38mm Advanta v12 polytetrafluoroethylene-coated stent (Atrium Medical Corp; Hudson, New Hampshire, United States). In another patient, with moderate bleeding, internal hemostasis was restored by prolonged inflation of the balloon used for predilation. In all patients, outcome was monitored by angiography from the contralateral femoral artery. There were no major intraprocedural complications, and patients were discharged from hospital 3.5±4.3 days after the procedure.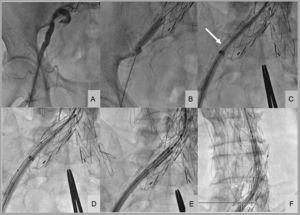 Figure.
Implantation of an aortic valve prosthesis in a patient with peripheral vascular disease and trouser-like stenting at the iliac bifurcation. A: initial right femoral angiography. B: balloon angioplasty at the distal iliac border of the stent. C: collision of the introducer sheath with the distal-most extreme of the right iliac stent (arrow). D: buddy balloon technique for sheath introduction. E and F: valve introduction into the abdominal aorta.
(0.35MB).
In the only previous report of transfemoral TAVI with narrow femoral access, predilation was used in 17 patients, resulting in 6 cases of iliac dissection.6 In our series, there were no dissections; however, this might reflect the predominant use of the latest generation Edwards-SAPIEN 3 prosthesis, which is introduced through a narrow-bore and highly compliant sheath. When treating patients with difficult femoral access, contralateral guidewire placement is essential to ensure immediate and effective access in the event of complications.
With appropriate planning and familiarity with established percutaneous techniques, transfemoral TAVI is a safe and effective procedure in patients with small diameter femoral access.
Copyright © 2016. Sociedad Española de Cardiología