Full Text
We present the case of a 76-year-old woman who was under follow-up up for right heart failure at our hospital. The patient had a past medical history of hypertension, diabetes mellitus, permanent atrial fibrillation, and chronic kidney disease on dialysis. Her heart failure symptoms had worsened in recent months, requiring more frequent dialysis sessions as well as therapeutic paracentesis. Echocardiography showed severe tricuspid regurgitation (TR) secondary to annular dilatation, with a significant coaptation defect between the leaflets (Figure 1A, video 1 of the supplementary data). Left ventricular ejection fraction, pulmonary pressures, and right ventricular function were all normal. Following a multidisciplinary team discussion involving interventional cardiologists, cardiac imaging specialists, clinical cardiologists, anesthetists and cardiac surgeons, it was decided that conventional surgery would be very high risk (EuroScore II, 8.6%), but the patient was offered the option of transcatheter replacement of the native valve with a new tricuspid prosthesis, under compassionate use. The device is called the GATE system (NaviGate CSI; Lake Forest, California, United States) and is a bioprosthesis with xenopericardial valves mounted in a self-expanding Nitinol stent (Figure 1B). The Nitinol stent is wider in the ventricular section, giving it a truncated conical shape that reduces the transvalvular gradient (this configuration generates a divergent nozzle into the right ventricular cavity that slows blood inflow and in turn reduces energy loss and flow separation, thus optimizing the gradient) and minimizes outflow tract obstruction, as there is little material protruding into the ventricle. Currently, it can be implanted via the jugular vein or via the right atrium with a minithoracotomy and is available in 5 sizes (36, 40, 44, 48, and 52mm). To select the correct size, transesophageal echocardiography and cardiac computed tomography are required to measure the tricuspid annulus as precisely as possible and to establish the relationship of the annulus to the right coronary artery (Figure 1C). It is recommended to use a prosthesis that is slightly larger than the annulus (< 5-10%). In the case presented here, the mean diameter of the annulus on both imaging modalities was 42.2 mm, so a 44mm prosthesis was used.
The procedure was conducted under general anesthetic and transesophageal echocardiographic guidance. A guide catheter was positioned with an intracoronary guidewire in the right coronary artery to mark the tricuspid annulus and to serve as a reference during implantation. In addition, a high-support guidewire was positioned in the left ventricle in case pacing was required during the procedure (it was not) and a pigtail catheter was positioned in the right ventricle to assess the TR and the final result (Figure 2A). In this case, transatrial access was used, as the caliber of the jugular vein was too small for the introducer sheath. Once access was obtained via the fourth intercostal space, a high-support guidewire was introduced into the right ventricle and used to position the device introducer (42 Fr). The valve deployment system was then advanced, and once in position and completely coaxial to the annular plane, the valve was deployed under echocardiographic and fluoroscopic guidance. Once unfolded, transesophageal echocardiography and right ventriculography were used to check the result and to check for right coronary artery damage (Figure 2B, 2C, and 2D and video 2 of the supplementary data). Following successful implantation, the patient was extubated at 6hours, and subsequently discharged from hospital. At the 3-month follow-up, the patient showed considerable clinical improvement, with no evidence of congestion (edema or ascites), and required fewer dialysis sessions and less volume extraction. Follow-up echocardiography at this point showed that the prosthesis was functioning normally, with no gradient or significant residual regurgitation (video 3 of supplementary data).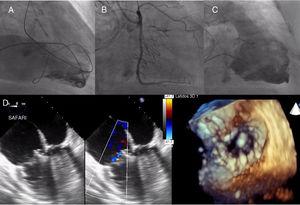 Figure 2.
Procedure. A: guide catheter and intracoronary guidewire in the right coronary artery, high-support guidewire in the left ventricle and pigtail in the right ventricle. B: undamaged coronary artery following implantation. C: implanted valve, with no residual regurgitation or outflow tract obstruction. D: echocardiographic result following implantation.
(0.29MB).
Patients with TR and secondary heart failure are often very symptomatic due to the reduced cardiac output and peripheral and abdominal congestion. In addition, the presence of moderate or severe TR is associated with increased mortality, independently of the biventricular function or pulmonary pressures.1 Current data support tricuspid repair when left heart surgical procedures are planned; however, reoperation for persistent or recurrent TR is associated with high morbidity and mortality.2,3 In such cases, therefore, transcatheter tricuspid repair techniques are an alternative to conventional surgery.4 Of these, the technique that has accumulated the most experience is the MitraClip in a tricuspid position.5 However, there are some anatomical determinants that make its use difficult, such as very large (> 7mm) coaptation defects or the presence of a regurgitant jet outside the anteroseptal area. In these cases, other devices, such as that presented here, may have their place. The GATE system is the first that completely replaces the valve in its orthotopic position and thus completely eliminates the TR. The preclinical data on this device are good (implantation safety and sufficient data on the gradient, absence of outflow tract obstruction, perivalvular leaks, coronary artery damage and leaflet thrombosis or calcification), and some 30 cases have been performed worldwide.6 Longer follow-up is needed to confirm the results, but it is a promising technique.
APPENDIX. SUPPLEMENTARY DATA
Supplementary data associated with this article can be found in the online version, at https://doi.org/10.1016/j.rec.2019.02.005.
Copyright © 2018. Sociedad Española de Cardiología