Full Text
Hereditary transthyretin-related amyloidosis (ATTR) with Val30Met mutation (V30M) is the most common form of familiar amyloid polyneuropathy (FAP). Although usually considered mainly a neurological disease, cardiac involvement is increasingly recognized. We describe a patient with endemic-type V30M-FAP admitted for decompensated congestive heart failure (HF) with impressive cardiac involvement and an extremely rare complication with chylous ascites (CA). We discuss the phenotypic variability of ATTR, the mechanisms that explain CA in HF and the challenging management of patients with severely impaired cardiac compliance.
We present the case of a 70-year-old Portuguese man with endemic-type V30M-FAP. The disease presented 10 years previously (late-onset) with polyneuropathy. The patient was the index case in his family, although his father was an asymptomatic mutation carrier. Past medical history included atrial fibrillation, pacemaker implantation due to atrioventricular block, chronic kidney disease, and New York Heart Association class II HF with no previous hospitalizations. He was transferred to our center due to decompensated HF. In the previous month, he developed generalized edema unresponsive to oral diuretics, rapidly worsening dyspnea, and symptomatic orthostatic hypotension. Upon arrival, he was in anasarca with tension ascites and needed urgent paracentesis. Surprisingly, the peritoneal liquid had a milky appearance and its analysis revealed high triglycerides (444 mg/dL; triglycerides serum-to-ascites ratio: 3.2) meeting criteria for CA. N-terminal pro-B-type natriuretic peptide was extremely high (140 454 pg/mL). Echocardiography revealed severely increased biventricular wall thickness (maximal at the interventricular septum with 30 mm), moderate systolic impairment, low systolic tissue velocities, and small pericardial effusion. The myocardium had a granular appearance compatible with infiltration (Figure A).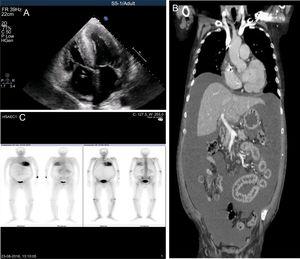 Figure.
A: echocardiography: severe hypertrophy, biatrial enlargement, pericardial effusion and myocardial granular appearance. B: thoracic-abdominal-pelvic tomography: large diffuse ascites with intestinal compression. C: DPD-scintigraphy: severe tracer uptake in the myocardium and carpal tunnel. DPD, 99mTc-3,3-diphosphono-1,2-propanodicarboxylic acid.
(0.28MB).
After this initial evaluation we struggled to understand our findings. The striking cardiac involvement was atypical for V30M and had been "silent" with no previous HF decompensations, and the CA did not seem to fit in this clinical puzzle. Given these discrepancies, we decided to exclude any underlying disease that could explain the CA and also contribute to the myocardial infiltration.
Thoracic-abdominal-pelvic tomography showed diffuse severe ascites causing intestinal compression but ruled out neoplastic, obstructive, or lymphatic causes of CA (Figure B). Scintigraphy with 99mTc-3,3-diphosphono-1,2-propanodicarboxylic acid revealed severe myocardial tracer uptake that was strongly suggestive of ATTR deposition and made other infiltrative causes and hypertrophic cardiomyopathy unlikely (Figure C). Extensive laboratory work-up was also negative. After reviewing the literature for similar cases, we assumed CA caused by HF as a diagnosis of exclusion.
Fluid management was difficult due to symptomatic hypotension with small increases in intravenous loop diuretics. Balance was achieved by using subcutaneous (SC) furosemide combined with metolazone and spironolactone, scheduled paracentesis and fluid intake restrictions. The patient slowly improved and was discharged after 3 weeks. At home, he self-administered SC furosemide using a SC catheter changed every week.
Because of wide genotypic and phenotypic variability, ATTR is still a challenging diagnosis. V30M-FAP is the most common mutation and neurological manifestations usually dominate the clinical picture. Heart involvement is most frequently related to conduction abnormalities but infiltration (usually mild to moderate) and diastolic dysfunction have been increasingly reported, mainly in late-onset and sporadic cases.1–3 This highlights the need for systematic echocardiographic screening in all V30M-FAP patients. The severe cardiac infiltration seen here is atypical for endemic-type V30M-FAP and warrants the exclusion of other causes for cardiac hypertrophy or infiltration.
99mTc-3,3-diphosphono-1,2-propanodicarboxylic acid-scintigraphy is useful given its high sensitivity and specificity for TTR-amyloid. The high visual score obtained confirmed that the severe cardiac infiltration was caused by TTR-amyloid deposition, although it cannot distinguish between mutated and wild-type TTR-amyloid forms.1
CA related to HF is extremely rare. A PubMed search retrieved only 6 relevant articles and, to our knowledge, this is the first report of the association between ATTR cardiac amyloidosis and CA. The underlying mechanism relates to high venous pressures that cause increased abdominal lymph production (secondary also to augmented capillary filtration) and reduced thoracic lymphatic drainage due to the high pressures in the left subclavian vein.4,5 HF should be considered in the differential diagnosis of CA in suitable patients.
Third-space fluid removal was quite challenging in this case. The normal initial depletion of intravascular volume by loop diuretics could not be counteracted by the autonomic nervous system and angiotensin-aldosterone system since these were impaired. The failure of compensation mechanisms, combined with the small and noncompliant ventricular cavity, caused abrupt decreases in preload with diuretic usage. This led to diminished cardiac output that induced symptomatic hypotension and thus prevented sufficient fluid removal. Careful diuretic dosing and SC furosemide were crucial to overcome the decreased oral absorption and improve edema. Using an elastomeric pump for SC furosemide infusion would also be effective.6
In conclusion, this case is remarkable because of 3 important messages: a) The late-onset and exuberant cardiac infiltration are uncommon in endemic-type V30M-FAP. b) HF is an extremely rare cause of CA and should be a diagnosis of exclusion. c) Impaired compliance creates a challenge to achieving diuretic dosing that permits third-space fluid removal without major intravascular depletion. Using SC furosemide can be very helpful.
.
Copyright © 2018. Sociedad Española de Cardiología