Full Text
Persistent fifth aortic arch is a rare congenital anomaly of the transverse aortic arch. In the first case report, in 1969, van Praagh et al described an inferior channel that "forms a sizable subway beneath the fourth (aortic) arch, forming a congenital double-lumen aortic arch." The anomalous structure originated from the distal portion of the proximal ascending aorta and terminated at the beginning of the descending aorta: "The double lumen extends from the level of the innominate artery proximally to the level of the left subclavian artery and ductus arteriosus distally."1
The fifth aortic arch is a transient embryonic structure. In the rare cases where it persists, 2 distal connections are possible: to the descending aorta (systemic-systemic connection) or to the distal part of the sixth arches (systemic-pulmonary connection).2 Reported cases of persistent fifth aortic arch can be classified into 3 types. In the most frequent (type A), there is a double-lumen aortic arch with 2 patent lumina running in parallel; in type B, there is atresia or interruption of the superior lumen and persistence of the inferior lumen; and in type C, there is a systemic-to-pulmonary arterial connection.2
Defects associated with this condition include coarctation or interruption of the superior aortic arch, severe stenosis of the right outflow tract, pulmonary or tricuspid atresia, and interventricular communication.3 Clinical presentation depends on the type of connection present and the associated cardiac defects. The condition is diagnosed by echocardiography or catheter angiography (or both), considered the gold-standard methods. However, computed tomography and cardiac magnetic resonance imaging can delimit aortic-arch anatomy and its variants with greater precision.3
Surgical options to repair coarctation of persistent fifth aortic arch include patch aortoplasty, end-to-end or side-to-side anastomosis between the fifth aortic arch and the descending aorta, and the grafting of a shunt across the coarctation site.3
Two pediatric case reports have been published that used a catheterization-based approach to treat coarctation of persistent fifth aortic arch.4,5 Both patients were treated with balloon aortoplasty, but 1 patient required surgery 6 months after the procedure due to persistence of the coarctation.
Here, we describe the first implantation of a covered stent to treat a pediatric case of persistent left fifth aortic arch with aortic coarctation and interruption of the fourth arch (type B). The patient was a 15-year-old girl who had been on medication for hypertension from the age of 10 years, managed by the nephrology unit of the local hospital. Examination revealed a 47-mmHg blood pressure difference between the upper and lower limbs. Echocardiography examination identified a double-lumen left aortic arch: a superior tranverse arch with the openings to the large neck vessels, and a coarcted inferior arch with a peak gradient of 80mmHg and diastolic runoff (Figure 1A). Magnetic resonance imaging revealed severe coarctation of the persistent fifth aortic arch and interruption of the fourth arch (Figure 1B). The double aortic arch was also observed by conventional catheter angiography: the superior arch had normal openings to the 3 supra-aortic vessels but was interrupted before the descending aorta; the persistent fifth aortic arch included a 6-mm diameter coarctation with a 30-mmHg hemodynamic gradient (Figure 2A). The coarctation was repaired by placement of a 39-mm covered CP stent premounted on a 14 × 40mm Maxi LD valvuloplasty balloon, with overdilation of the distal third of the stent with a 16 × 40mm Maxi LD balloon. Postprocedure angiography showed a positive outcome, with a residual gradient of 2mmHg (Figure 2B). The patient was kept under observation for 48hours before discharge, without incident.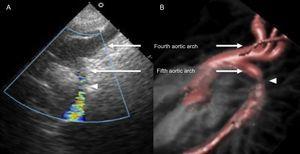 Figure 1.
Double-lumen aortic arch imaged by 2-dimensional echocardiography (A) and cardicac magnetic resonance imaging (B). The superior tranverse arch (fourth aortic arch) includes openings to the major neck vessels. The inferior transverse arch (persistent fifth aortic arch) has an aortic coarctation (arrowhead).
(0.2MB).
During follow-up at 3 months postimplantation, computed tomography with contrast showed a normally positioned 38-mm stent, beginning 5mm distal to the single trunk of the ascending aorta that opens to the supra-aortic vessels (Figure 2C). No further intervention was required during 12 months of follow-up.
To our knowledge, this is the first case report of stent placement in a pediatric patient to treat coarctation of a type B persistent fifth aortic arch, associated with interruption of the fourth aortic arch. The patient required no reintervention during the first 12 months of follow-up. We believe that stent angioplasty is a safe and successful treatment for this type of anatomy and should be considered as an alternative to surgery.
Copyright © 2015. Sociedad Española de Cardiología