Full Text
Myxoma is the most frequent cardiac tumor, representing 50% of cases, and is considered benign, although there have been some reports of associated cerebral or pulmonary emboli.1–3 We describe the case of a woman with right atrial myxoma with an unusual clinical presentation due to the location of the tumor, which posed a difficult diagnostic dilemma. This was a 57-year-old woman who was admitted from the emergency department with a 6-month history of progressive dyspnea with associated occasional episodes of palpitations, dizziness, and general malaise. The patient had hypertension, diabetes, and obesity, but no past cardiological history.
On arrival, blood pressure was 115/73 mmHg, heart rate was 78 bpm, and oxygen saturation was 80% at rest on room air, which was recorded on various occasions. Arterial blood gases showed severe hypoxemia (pO2, 49 mmHg) with hypocapnia (pCO2, 24 mmHg). There were no signs of pulmonary edema, but there were signs of right heart failure in the form of jugular venous distension, hepatojugular reflux, hepatomegaly of 2cm, and mild ankle edema. Auscultation revealed a systolic murmur and an early diastolic tumor "plop" at the left parasternal edge. Electrocardiography showed sinus rhythm and an S1Q3T3 pattern. Full blood count showed mild polycythemia (hemoglobin, 16.7g/dL; hematocrit, 51.8%). On chest X-ray, there was a mild increase in right atrial volume with no pulmonary changes. The first suspected diagnosis was pulmonary thromboembolism. However, computed tomography with contrast showed no evidence of acute emboli but did show a large mass in the right atrium (Figures A-B). Transthoracic echocardiography confirmed the existence of a mass suggestive of myxoma, which was anchored to the interatrial septum and prolapsed through the tricuspid annulus, causing obstruction during diastole, with alternating severe tricuspid regurgitation-stenosis (Figure C). Pulmonary artery pressures could not be assessed. The patient was admitted to the acute coronary care unit, where, in the first few hours, persistent dyspnea and severe desaturation were recorded, which worsened on sitting up despite administration of high-flow oxygen. Cardiac telemetry revealed atrial tachycardia alternating with periods of sinus bradycardia. The patient's refractory hypoxemia, not fully explained by the obstruction from the right atrial myxoma or by pulmonary disease, led to suspicion of an intracardiac shunt. An echocardiogram was performed with administration of agitated saline, which held the key to the diagnosis. Bubbles were observed passing into the left atrium in the first 3 cardiac cycles through a patent foramen ovale with a significant right-to-left shunt (video in supplementary material).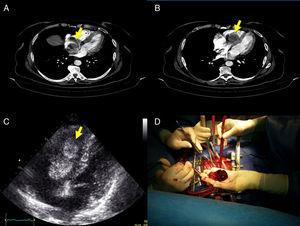 Figure.
A: multidetector computed tomography identified a mobile RA mass (arrow); B: the mass prolapsed through the tricuspid annulus; C: transthoracic echocardiography showed a large right atrial mass suggestive of myxoma, measuring 31 mm × 59mm, anchored to the interatrial septum, which prolapsed through the tricuspid annulus and caused obstruction during diastole; and D: these findings were confirmed at surgery.
(0.2MB).
Surgery was performed within 12hours from admission, with resection of a large gelatinous mass from the right atrium, anchored to the interatrial septum at the opening of the coronary sinus (Figure D), and primary closure of the foramen ovale. Pathological studies showed a myxoid matrix with an excess of blood vessels and areas of hemorrhage, which was confirmed with immunohistochemical analysis. The postoperative period was uneventful and the patient has remained asymptomatic during the first year of follow-up.
Only 15% to 20% of myxomas are in the right atrium.1,2 To date, there are fewer than 10 reported cases of right atrial myxoma with associated foramen ovale in the literature.4,5 The reverse interatrial shunt may be explained by high interatrial pressures, if there is severe tricuspid stenosis with regurgitation. Cyanosis and hypoxemia may change with the patient's positioning. As with all right-to-left shunts, this case was resistant to oxygen therapy. In patients such as ours, there is a considerable risk of systemic embolism and sudden death secondary to tricuspid valve obstruction, and they should be treated as a surgical emergency.
This patient had an unusual presentation, with an obstructive myxoma in the right atrium and an associated patent foramen ovale that led to a right-to-left shunt, causing the onset of orthodeoxia, which posed a difficult diagnostic dilemma.6 The possibility of complications with myxomas should not be underestimated, and an intracardiac shunt should be suspected in patients with refractory hypoxia with no obvious cause.
Copyright © 2016. Sociedad Española de Cardiología