Abstract
The diagnosis and management of mitral and tricuspid valve disease have undergone major changes in the last few years. The expansion of transcatheter interventions and widespread use of new imaging techniques have altered the recommendations for the diagnosis and treatment of these diseases. Because of the exponential growth in the number of publications and clinical trials in this field, there is a strong need for continuous updating of local protocols. The recently published 2021 European Society of Cardiology guidelines for the management of valvular heart disease did not include some of the new data on these new therapies and, moreover, the number of mitral and tricuspid interventions varies widely across Europe. Therefore, all this information must be summarized to facilitate its use in each specific country. Consequently, we present the consensus document of the Section on Valvular Disease, Cardiovascular Imaging, Clinical Cardiology, and Interventional Cardiology Associations of the Spanish Society of Cardiology for the diagnosis and management of mitral and tricuspid valve disease.
Keywords:
Mitral
Tricuspid
Consensus
Transcatheter
Resumen
El diagnóstico y el tratamiento de la valvulopatía mitral y tricuspídea han sufrido unos cambios extraordinarios en los últimos años. La irrupción de las intervenciones percutáneas y la generalización de las nuevas técnicas de imagen han modificado las recomendaciones para el diagnóstico y el tratamiento de estas afecciones. La ingente cantidad de publicaciones y estudios en este campo obliga a una continua actualización de nuestros protocolos. La publicación de la guía de la Sociedad Europea de Cardiología de 2021 sobre el tratamiento de las valvulopatías no cubre algunos aspectos novedosos de estos tratamientos y, además, el número de intervenciones realizadas en los países de nuestro entorno es muy variable, lo que exige una adecuación de las recomendaciones al contexto local. Además, es indispensable un resumen de toda esta información para que se pueda generalizar su uso. Por estos motivos, se considera necesario el posicionamiento común de la Asociación de Cardiología Intervencionista, la Asociación de Imagen Cardiaca, la Asociación de Cardiología Clínica y la Sección de Valvulopatías y Patología Aórtica de la Sociedad Española de Cardiología para el diagnóstico y el tratamiento de la valvulopatía mitral y tricuspídea.
Palabras clave:
Mitral
Tricúspide
Consenso
Percutáneo
Full Text
INTRODUCTION
This article represents the consensus document of the Section on Valvular Disease and the Cardiovascular Imaging, Clinical Cardiology, and Interventional Cardiology associations of the Spanish Society of Cardiology for the diagnosis and treatment of mitral and tricuspid valve disease.
MITRAL VALVE DISEASE
Mitral regurgitation (MR) is the second most common valve disease in Europe1 and the most common one worldwide.1,2 It is classified as primary or secondary. Primary MR is caused by injury to 1 or more components of the valve apparatus, while secondary (or functional) MR is caused by changes to the ventricular or atrial geometry that result in increased tension and abnormal closure of structurally normal leaflets.3,4
Patients with primary MR may be asymptomatic for years because left ventricle (LV) volume overload results in compensatory mechanisms, such as left ventricular dilatation. If not dealt with in time, however, chronic overload will lead to increased wall stress, remodeling, myocardial fibrosis, and, eventually, ventricular dysfunction.3
Prognosis in severe MR depends on several variables, in particular, the presence of symptoms, an LV ejection fraction (LVEF) <60%, and an LV end-systolic diameter >40mm.5 Multiple studies have shown that intervention is necessary to prevent worse outcomes in asymptomatic patients with preserved LV systolic function.5,6 Some authors consider that current thresholds already correspond to a decompensated stage of LV dysfunction and call for even earlier treatment of MR.7,8
Secondary MR can be caused by LV dysfunction, myocardial infarction affecting the posterior papillary muscle, or annular dilatation secondary to severe atrial dilation, usually in the context of atrial fibrillation or heart failure (HF) with preserved LVEF.4
Treatment should always seek to reverse LV remodeling and include medical treatment and cardiac resynchronization and coronary revascularization where indicated.9,10
Because, however, regurgitation of any degree has a negative impact on prognosis (increased incidence of HF and death),11,12 valve repair or replacement may be useful in certain cases.9,10
DIAGNOSIS
The mitral valve apparatus is composed of an annulus, leaflets, a subvalvular apparatus (chordae tendineae and papillary muscles), and the LV. The mitral annulus is a 3-dimensional saddle-shaped structure with an oval morphology (anteroposterior and intercommissural diameters). The anterior and posterior leaflets have a similar surface and join at the anterolateral and posteromedial commissures, between which runs the coaptation line. The posterior leaflet is divided by 2 small indentations and, according to the Carpentier classification, it divides the leaflets into 3 opposing posterior-anterior scallops from the lateral to the medial sides: A1-P1, A2-P2, and A3-P3 (figure 1).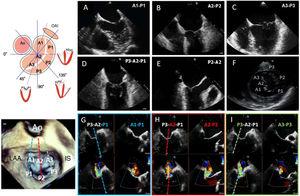 Figure 1.
Mitral valve assessment by TEE. With 2-dimensional TEE, visualization in different planes (A-F; midesophageal 0° with varying depths, bicommissural, outflow tract, and transgastric short axis) is necessary for systematic assessment. Three-dimensional TEE permits a full "surgeon's view" assessment. Two-dimensional orthogonal views of pairs of scallops (X-plane. G, A1-P1, blue; H, A2-P2, red; I, A3-P3, green) is very useful for monitoring percutaneous procedures. Ao, aorta; IS, interatrial septum; LAA, left atrial appendage; TEE, transesophageal echocardiography.
(0.52MB).
Transthoracic echocardiography is the imaging modality of choice for patients with MR. Transesophageal echocardiography (TEE) is reserved for cases with an inconclusive diagnosis in which greater detail is required, and it is also used for planning valve repair procedures. Three-dimensional TEE provides additional information in patients with complex injuries and is also used to guide transcatheter interventions. Evaluation of MR severity is complicated. MR depends on hemodynamic conditions and no single parameter provides conclusive results. Assessment should be based on the stepwise integration of qualitative, semiquantitative, and quantitative parameters12 (table 1).
Table 1.
Evaluation of mitral regurgitation
 
Mild (1 or 1+) 
Mild to moderate (2 or 2+) 
Moderate to severe (3 or 3+) 
Severe (4 or 4+) 

Quantitative parameters

Valve morphology 
Normal/slightly abnormal leaflets or slight tenting 
Moderately abnormal leaflets or moderate tenting 
Moderately abnormal leaflets or moderate tenting 
Flail/wide coaptation defect or severe tenting 
Regurgitant jet on color Doppler

a

 
Small, central (<4cm

2

or <20% LA) 
Moderate (4-6cm

2

or 20%-30% LA) 
Moderate (6-8cm

2

or 30%-40% LA) 
Wide central jet (>8cm

2

or >50% LA) or eccentric jet with Coandă effect 
Flow convergence,

b

continuous Doppler signal 
None, small, or parabolic 
Dense, partial, or parabolic 
Dense, partial, or parabolic 
Holosystolic, dense, triangular 

Semiquantitative parameters

Vena contracta, mm

c

 
<3 
3-5 
5 to <7 
≥7 (≥8 biplane)

d

 
Pulmonary vein flow

e

 
Systolic dominance

f

 
Normal, systolic blunting 
Systolic blunting 
Minimum, absent, or reverse systolic flow

g

 
Mitral valve inflow 
A–wave-dominant

f

 
Variable 
E wave >1.2m/s

e

 
E wave >1.2m/s

h

 
Mitral VTI/aortic VTI

e

 
<1 
Moderate 
>1.2

h

 
>1.2

h

 

Quantitative parameters

i

,

j

,

k

EROA, mm

2

c

 
<20 
20-29 
30-39 
≥40 
Regurgitant volume, mL

l

 
<30 
30-44 
45-59 
≥60 
Regurgitant fraction, % 
<30 
30-39 
40-49 
≥50 

Cardiac MRI parameters

m

Regurgitant fraction, % 
<30 
30-39 
40-49 
≥50 

Structural parameters

LV and LA size

n

 
No 
Normal-dilated 
Dilated 
Dilated 
Pulmonary arterial pressure

n

 
Normal 
Normal-high 
Normal-high 
High 
2D, 2-dimensional; 3D, 3-dimensional; EROA, effective regurgitant orifice area; LA, left atrium; LV, left ventricle; LVEDD, left ventricular end-diastolic diameter; PISA; proximal isovelocity surface area; TEE, transesophageal echocardiography; MR, mitral regurgitation; MRI, magnetic resonance imaging; TI, velocity-time integral.
Cardiac computed tomography (CT) is essential for planning transcatheter mitral valve replacements, regardless of technique (prosthesis, valve-in-valve, valve-in-ring, valve-in-MAC [mitral annulus calcification], or native valve replacement). Cardiac CT scans are useful for prosthesis size selection, detailed visualization of the deployment area, and neo-LV outflow tract (LVOT) assessment via virtual valve implantation.13 A neo-LVOT area <1.7cm2 is predictive of LVOT obstruction, a contraindication for transcatheter mitral valve replacement.14
TREATMENT
Treatment of MR depends on the underlying mechanism.5,15
Primary MR
Medical treatment for acute primary MR
Nitrates and diuretics should be used to reduce filling pressures, and sodium nitroprusside to reduce afterload and regurgitant fraction. Inotropic agents and ventricular assist devices should be used in hemodynamically unstable patients.
Surgery or transcatheter therapy for severe acute primary MR
Surgery and transcatheter therapy should be contemplated in patients with severe acute primary MR once supportive measures have been implemented to achieve stability. Emergency surgery (mostly valve replacement) is the classic treatment of choice, but it is associated with high morbidity and mortality.16 Favorable results have been reported for transcatheter valve repair in recent years, with positive outcomes in both stable patients and patients in cardiogenic shock.17,18
Medical treatment for chronic primary MR
There is no evidence to support the prophylactic use of vasodilators in patients with MR and preserved LV systolic function. The current European Guidelines for the Diagnosis and Treatment of Heart Failure recommend treating MR in patients with HF.15
Surgery or transcatheter therapy for severe chronic primary MR
Current guidelines on the treatment of severe chronic primary MR recommend surgery (valve repair) for symptomatic patients at low surgical risk and asymptomatic patients with reduced LV function (end-diastolic diameter [EDD] ≥40mm or LVEF ≤60%) or preserved LV function if they have atrial fibrillation, a left atrial end-systolic volume ≥60mL/m2 or diameter ≥55mm, or systolic pulmonary hypertension (pulmonary artery systolic pressure >50mmHg). Transcatheter edge-to-edge repair (discussed in the next section) must be considered in patients at high surgical risk.
Secondary MR
Medical treatment
The mainstay treatment for secondary MR in patients with HF and reduced LVEF is drug therapy with β-blockers, mineralocorticoid receptor antagonists, angiotensin-converting enzyme inhibitors, or angiotensin II receptor blockers, and, where appropriate, sacubitril-valsartan and sodium-glucose cotransporter 1 (SLGT1) inhibitors, cardiac resynchronization therapy (for patients with a widened QRS), and coronary revascularization (for patients with ischemic HF).
Surgery and transcatheter therapy for secondary MR
Options for patients with persistent symptoms after optimal medical treatment:
•

Surgical valve replacement in patients with heart disease amenable to surgery or patients who need another type of heart surgery.

•

Edge-to-edge mitral valve repair in patients with suitable criteria. In the absence of suitable criteria consider other transcatheter valve procedures and suitability for ventricular assist device placement or a heart transplant (see next section).
Transcatheter mitral valve therapies
Transcatheter mitral valve repair therapies have increased exponentially in recent years, and their excellent results have forced a re-examination of the indications for MR intervention. Transcatheter replacement therapies are designed to emulate surgical repair techniques, such as annuloplasty, increase of mitral leaflet coaptation, and neochordal insertion. Transcatheter valve replacement is also now possible. A number of notable devices are already in widespread clinical use, such as the edge-to-edge repair devices MitraClip (Abbott Vascular, USA) and PASCAL (Edwards Lifesciences, USA) and the replacement system Tendyne (Abbott Vascular)19,20 (figure 2).
Selection of candidates
The main candidates for transcatheter treatment of MR according to the position statement of the Spanish, Italian and Portuguese interventional societies21 are shown in table 2.
Table 2.
Candidates for transcatheter treatment of MR
Suitable candidates
Severe symptomatic secondary MR + LVEF <50% + not programmed for grafting, essentially if COAPT criteria are met

a

 
Severe symptomatic MR (primary or secondary) + previous patent left mammary artery graft 
Symptomatic primary MR + high surgical risk or inoperable or not suitable candidate for surgery 
Consider in
Secondary atrial MR in an unsuitable surgical candidate 
Unsuccessful annuloplasties 
Severe symptomatic MR after myocardial infarction in an unsuitable candidate for surgery 
Bridging strategy for patients with severe secondary MR and a high functional class awaiting heart transplant or ventricular assist device implantation (MitraBridge) 
Anterior mitral systolic movement in patients with hypertrophic cardiomyopathy who are not candidates for myomectomy 
LVEF, left ventricular ejection fraction; MR, mitral regurgitation.
Scientific evidence
The first trial to compare conventional surgery and transcatheter repair in MR, EVEREST II, ??showed the first-generation MitraClip device to be less effective but safer than surgery in a population with mainly primary MR.22 New-generation devices are much improved, with more than 90% of patients with primary MR treated with a fourth-generation device achieving grade 0-1 regurgitation by day 30.23
The results of the MITRA-FR24 and COAPT25 trials in which patients with secondary MR were randomized to medical treatment vs transcatheter edge-to-edge valve repair with MitraClip were published in 2018. Although no improvements were observed in the French intervention group (MITRA-FR), in the COAPT trial, patients randomized to the MitraClip group had significantly fewer hospitalizations and a 38% reduction in mortality at 2 years. The disparate results may be due to a series of differences between the 2 trials, such as MR severity, ventricular volumes, optimal medical treatment, and clinical selection of candidates (exclusion of patients with very poor prognostic factors).
Based on the findings of these trials, transcatheter mitral valve repair should be avoided in patients with very advanced disease (greater ventricular dilatation and very poor function) who have nonsevere secondary MR and are not on optimal medical treatment. Patients should be in earlier stages, have significant MR (effective regurgitant orifice area >30mm2), and be receiving optimal medical therapy. Appropriate anatomic selection and extensive experience are key to procedural success (table 3). Secondary analyses of the COAPT trial showed improved outcomes in practically all intervention subgroups analyzed. Correction of MR was even associated with significant improvements in functional class and quality of life in patients with the most similar phenotype to that observed in MITRA-FR trial.26
The evidence from the COAPT trial is conclusive, and both US and European guidelines recommend mitral valve repair as the first-choice treatment in patients with secondary MR requiring intervention.5,27
We have synthesized the above evidence into 3 levels of recommendation to guide the selection of candidates (figure 3).
The recently developed MitraScore scale is also a useful tool for guiding patient selection, as it identifies patients with the worst prognosis and fewest chances of recovery.28
Transcatheter mitral valve repair is also used as a bridging strategy for patients awaiting advanced treatments, such as a heart transplant or ventricular assist device placement (MitraBridge strategy).29
Good outcomes have also been reported for transcatheter repair techniques in patients with favorable anatomic conditions and acute MR after myocardial infarction; one study even suggested a better impact on prognosis compared with surgery.18,30
A treatment algorithm for primary and secondary MR summarizing the above information is given in Figure 4.
The criteria for choosing between mitral valve repair and replacement are summarized in table 4. The Tendyne replacement system (Abbott Vascular) achieves favorable outcomes in properly selected patients.31,32
Tricuspid Valve Disease
Moderate to severe tricuspid regurgitation (TR) affects up to 4% of patients older than 75 years.33 It is thus a highly common condition whose prevalence is directly proportional to age.34
Chronic TR leads to right ventricular (RV) volume overload, which results in RV remodeling and contributes to progressive worsening of the condition.34 This self-perpetuating process is associated with worse survival outcomes and worsening signs and symptoms of congestion, whether pulmonary pressure or LV systolic function.35-37
TR has traditionally been considered a benign condition, probably because symptoms linked to significant RV dysfunction or dilatation and pulmonary hypertension develop late. Surgery at late stages of disease carries a high risk, with in-hospital mortality rates ranging from 10% to 35% in patients with a history of heart surgery who undergo tricuspid valve surgery.38 These high rates have been attributed to late intervention.
The emergence of transcatheter therapies for aortic and mitral valve disease triggered increasing interest in their use in TR and an exponential growth in studies investigating transcatheter approaches for a supposedly benign disease that has classically been undertreated.
The novel treatment options are discussed in the sections below, and summarized in a diagnostic and treatment algorithm mainly designed to guide optimal timing and choice of treatment in patients with severe TR and emphasize the importance of intervening before the condition progresses to an advanced stage.
DIAGNOSIS
Echocardiography remains the first-line imaging modality for the diagnosis and management of TR. The tricuspid valve apparatus is composed of leaflets, the annulus, the subvalvular apparatus (chordae tendineae and papillary muscles), and the RV. Diagnosis of TR requires a description of disease severity and underlying causes and mechanisms, anatomic assessment of the right cavities, and estimation of pulmonary pressures.12,39
Cardiac magnetic resonance imaging (MRI) serves as a diagnostic alternative when sufficient anatomic definition of the tricuspid valve is not possible with TEE. CT allows for better assessment of the tricuspid annulus and degree of annular calcification, crucial information when planning a transcatheter procedure. Initial imaging with 2- and 3-dimensional transthoracic echocardiography should always be used to determine RV size and function, but cardiac MRI is the gold standard for full assessment.12,40-42 The current classification of the causes and mechanisms underlying TR is provided in table 5.12,41,43
TR severity should be assessed using multiple qualitative, semiquantitative, and quantitative variables. In 2017, the TR grading system was expanded to include massive and torrential regurgitation,44 which have shown higher predictive value for HF hospitalization and mortality. The current grading system is shown in table 6. The steps for evaluating and managing a patient with TR in routine clinical practice are summarized in figure 5.12,39,41,44
Multimodality imaging is essential for adequate TR assessment, especially in the context of transcatheter therapies. Cardiac MRI is the gold standard for right cavity assessment and is essential for determining the effects of TR on these structures. RV function can influence the feasibility of different treatment options. Cardiac CT should be used to measure calcium scores and assess extracardiac structures that can be accessed percutaneously. The strengths and uses of the different imaging techniques in the assessment of TR within the setting of transcatheter therapy are summarized in table 7. Anatomic limitations that determine choice of approach are shown in table 8.12,39,41,44,45
TR Treatment
As mentioned, TR is an independent predictor of poor prognosis, regardless of the clinical setting.35 Novel transcatheter repair techniques offer an effective alternative for select cases and in addition are associated with a low risk of complications.
Surgery
Isolated tricuspid valve surgery for secondary TR in patients who are not candidates for mitral or aortic valve surgery is a controversial topic, and is rarely performed due to the risk profile of the patients and the high risk of postoperative complications.46,47 Transcatheter therapies are gaining importance in this setting. In one study, early tricuspid valve repair in patients with secondary TR undergoing surgery for MR was associated with a lower need for intervention during follow-up, although pacemaker implantation was more common in patients who underwent surgery and tricuspid annuloplasty than in those treated with surgery only (14.1% vs 2.5%).48
Surgery is currently the treatment of choice for the correction of primary TR. Where possible, repair is preferable to replacement. Bioprostheses are increasingly favored in patients undergoing tricuspid valve replacement, as they eliminate the need for oral anticoagulants and do not exclude the possibility of future valve-in-valve implantations in the event of bioprosthetic valve dysfunction.
Medical treatment
Conservative and medical treatment options for TR are limited, and are aimed at treating the mechanisms responsible for functional regurgitation. Diuretics are the mainstay treatment for preventing RV volume overload and treating right HF manifestations. Aldosterone antagonists can be useful for treating hepatic congestion. Pulmonary vasodilators are contraindicated in patients with corrected left valvular heart disease and TR secondary to pulmonary hypertension due to their association with worse outcomes.49 Rhythm control may be useful for correcting TR caused by annular dilatation secondary to atrial fibrillation, but its effectiveness has not been clearly established.
Medical treatment should not serve as an argument to delay intervention in candidates for invasive procedures. Postponing treatment until advanced stages of disease will lower the likelihood of RV, renal, and hepatic function recovery, even if central venous and RV congestion are successfully reduced.
Transcatheter tricuspid valve therapy
Transcatheter tricuspid valve repair procedures emulate surgical procedures but do not require thoracotomy or extracorporeal circulation, which have a particularly deleterious effect on patients with RV dysfunction.
Edge-to-edge repair
Edge-to-edge devices are the most widely used repair systems. Their main advantage is that they can be used to treat TR caused by the presence of devices (pacemakers). Their main limiting factor is the echocardiographic window, especially in patients undergoing mitral valve surgery.
Early experience with the MitraClip device led to modifications in the device's delivery system and guide catheter to improve positioning and coaxial alignment with leaflets. The modified clip, TriClip (Abbott, USA), was evaluated in the prospective TRILUMINATE trial, which included 85 patients, 63% of whom had massive or torrential TR. By month 12, TR had been reduced to moderate or less in 71% of patients. Additional benefits were improvements in functional class (NYHA I-II, 83% vs 31% at baseline), fewer HF readmissions (0.8 vs 1.30 events/patient/y at baseline), improved quality of life (increase of 10 points on the Kansas City Cardiomyopathy Questionnaire score in 65% of patients), a decrease in right ventricular and atrial dimensions, and a reduction in major complication rates at 1 year.50 Twelve-month mortality was 7.1% overall (4.8% for cardiovascular mortality). The TriClip is currently being evaluated in the prospective bRIGHT study (NCT04483089) investigating the performance and safety of the 4 device sizes currently available (NT, XT, NTW, and XTW). The TriClip is also being compared with medical treatment in the pivotal Triluminate trial (NCT03904147).
The PASCAL transcatheter valve repair system (version P10) was evaluated in a series of 34 patients, 78% of whom had massive or torrential TR; 52% achieved a TR severity reduction to moderate or less, while 85% achieved a reduction of at least 1 grade.51 The ACE version of the PASCAL system (which has narrower clasps and no spacer) is currently being evaluated and is expected to further reduce TR.
Annuloplasty
The Cardioband direct annuloplasty device (Edwards Lifesciences), designed to emulate a flexible surgical ring, is implanted by means of an adjustable band anchored via screws.52 It can be used to treat patients with wide coaptation defects that are difficult to access using the edge-to-edge technique. Anatomic limitations include a wide annulus and the proximity of the right coronary artery to the annulus. Another advantage of Cardioband is that it does not exclude future valve repairs or replacements.
In the TRI-REPAIR study analyzing 2-year outcomes of Cardioband implantation in 30 patients (76% of whom had massive or torrential TR), 72% of patients achieved a significant reduction to moderate or less.53
Transcatheter valve replacement
Early transatrial approaches were associated with high morbidity and mortality, triggering an inevitable transition to devices suitable for transfemoral implantation.
Twenty-five patients underwent tricuspid valve replacement with the EVOQUE valve (Edwards Lifesciences) in a compassionate-use study. Implantation was successful in 23 patients, all of whom achieved minimal or slight residual TR; 8% required a permanent pacemaker.54
The feasibility of valve replacement therapy extends candidacy for transcatheter TR treatment to patients with complex defects and wider annuli. Patients with severe TR should not be considered for tricuspid valve replacement as it offers little clinical benefit.
Heterotropic prostheses
TricValve (Products+Features, Germany)55 and TRICENTO (MEDIRA, Germany)56 are heterotopic caval valve prostheses that can mitigate the symptoms of TR without directly addressing the cause. They should therefore be primarily reserved for situations in which repair techniques have been ruled out or unsuccessful.
Treatment algorithm for TR
Considering that TR is a high-risk condition, the gold standard treatment should be expanded to include invasive correction alongside purely medical options.57 Surgery remains a viable option for the few young patients without significant comorbidities, but transcatheter repair is emerging as a better option for most cases (figure 4). An active search for TR should be performed in susceptible patients, that is, patients who have undergone mitral valve surgery, patients with atrial fibrillation, and patients carrying a cardiac stimulation device.
Optimal timing of treatment remains to be established, as the evidence is less robust than it is for mitral or aortic valve disease. This group advocates early consideration of transcatheter repair as a) it increases the likelihood of functional recovery of affected organs (symptom onset usually indicates end-stage disease) and b) has a good safety profile.
Conclusions
We have presented the consensus document on the diagnosis and treatment of mitral and TR of the Section on Valvular Heart Disease and the Cardiovascular Imaging, Clinical Cardiology, and Interventional Cardiology associations of the Spanish Society of Cardiology.
Funding
No funding was received.
Authors' Contributions
All the authors contributed equally to this document.
Conflicts of Interest
R. Estévez-Loureiro is a proctor for Abbott Vascular, Edwards Lifesciences, Boston Scientific, and Products and Features. D. Arzamendi is a proctor for Abbott Vascular, Edwards Lifesciences, and Boston Scientific. I. Cruz González is a proctor for Abbott Vascular, Boston Scientific, and Products and Features, and a consultant for Edwards Lifesciences.
Appendix A
APPENDIX. SCIENTIFIC SOCIETIES REPRESENTED BY THE AUTHORS
Interventional Cardiology Association of the Spanish Society of Cardiology: I. Cruz González (president), R. Estevez Loureiro, and D. Arzamendi.
Cardiac Imaging Association of the Spanish Society of Cardiology: L. Borreguero (president), A. Martínez-Monzonis (president-elect), M. Barreiro.
Section on Valvular and Aortic Heart Disease of the Spanish Soviety of Cardiology: I. Vilacosta (presidente), C. Olmos Blanco, and J.C. Gómez Polo.
Clinical Cardiology Association of the Spanish Society of Cardiology: J.M. Gámez (president), A. Aguilera, and L.M. Rincón.
Copyright © 2022. Sociedad Española de Cardiología