Full Text
Necrotizing autoimmune myopathy (NAM) is a rare but serious condition that can feature cardiac involvement.1 We report an unusual and difficult-to-diagnose case of NAM-induced myocarditis that highlights the usefulness of autoimmune studies in patients with idiopathic myocarditis. The disease and the associated cardiac involvement are reviewed.
An 82-year-old woman presented to the emergency department with a 4-week history of dyspnea on moderate exertion, with no symptoms or signs of heart failure. The patient had a history of untreated hypercholesterolemia, with no previous history of diabetes mellitus, hypertension, or heart disease.
Examination on admission revealed elevation of troponin T and creatine kinase (Figure 1 A) and complete left bundle branch block, which had been present on previous electrocardiograms. The blood count, coagulation test, basic biochemistry, and chest X-ray were all normal. The combination of dyspnea with indicators of myocardial injury suggested cardiac involvement, and the patient was kept in hospital for further evaluation.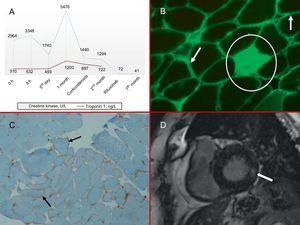 Figure.
A, Myocardial injury markers; both enzymes were elevated, especially creatine kinase. B, Muscle biopsy: IgG immunofluorescence (×10). The arrows indicate the accumulation of muscle fibers in the plasma membrane, and the circle marks a necrotic endomysial fiber. C, Muscle biopsy: MHC1 immunohistochemical staining (×10). MHC1 overexpression in muscle fiber plasma membranes (arrows). D, Cardiac magnetic resonance imaging: late gadolinium enhancement sequence. The arrow indicates intramyocardial basal infereolateral capture. MHC1, class 1 major histocompatibility antigen.
(0.29MB).
Transthoracic echocardiography showed normal overall and segmental systolic functions, with no sign of valve disease. A coronary angiogram detected no lesions.
The persistent elevation of myocardial injury markers in the absence of apparent ischemia suggested myocarditis. Despite the persistently elevated muscle enzymes, tests eliminated a possible infectious or toxic origin. A specific antibody profile showed a positive result for anti-signal recognition particle (anti-SRP) autoantibodies.
The patient's condition thus appeared to be a case of NAM associated with anti-SRP autoantibodies. Thoracic, abdominal, and pelvic computed tomography and tumor marker analysis eliminated cancer as the cause of the autoimmune profile. Neurophysiological analysis and a muscle biopsy were compatible with NAM (Figure 1B and C).
To resolve the co-occurrence of elevated myocardial injury markers with the inconclusive transthoracic echocardiogram, we requested a cardiac magnetic resonance imaging (MRI) scan. The scan showed a nondilated left ventricle with normal systolic function, and late gadolinium enhancement revealed intramyocardial areas in the basal inferolateral segments that were consistent with fibrosis (Figure 1D).
The patient was treated with aspirin, beta-blockers, and corticosteroids (3 bolus doses of 250mg 6-methylprednisolone followed by prednisone at 0.4mg/kg/d). Given the seriousness of the patient's condition, the decision was taken to administer 1g of intravenous rituximab, with a repeat dose after 2 weeks. The patient was maintained on decreasing doses of prednisone, and after 3 months she was free of dyspnea and her myocardial enzymes had normalized.
Autoimmune myopathies (AIM) are a heterogeneous group of muscular disorders characterized by muscle weakness, elevated creatine kinase, and electromyographic alterations; in addition, AIM patient muscle biopsies typically show evidence of inflammatory infiltration, necrosis, or anomalous expression of major histocompatibility complex 1 (MHC1).1
Inflammatory myopathies have historically been classified according to anatomical and pathological criteria into the following categories: polymyositis, dermatomyositis, inclusion body myositis, necrotizing myositis, and nonspecific myositis. The recent description of new antibodies and the availability of techniques for their detection have prompted calls for a reclassification under the term AIM, given that almost all forms of the disease feature autoimmune antibodies.2
The case of NAM reported here differs from other reported instances of AIM in showing minimal or absent inflammation in the muscle biopsy, despite the presence of areas of marked necrosis and regeneration.
NAM can occur alone or in conjunction with viral infection, cancer, scleraderma, or statin therapy. The condition is associated with 2 types of antibody: anti-SRP antibodies and antibodies to 3-hydroxy-3-methylglutaryl coenzyme-A reductase2; however, up to a third of patients are seronegative.
Anti-SRP antibodies are highly specific and are associated with more acute forms of disease, higher creatine kinase concentrations, and more pronounced damage to the respiratory and esophageal muscles. Cardiac injury is less frequent.1–3
The first description of cardiac involvement in AIM was provided by Oppenheim in 1899. The prevalence of cardiac injury in AIM patients remains uncertain, ranging from 6% to 75% depending on patient selection and the method used. However, cardiac injury is considered a major clinical manifestation of AIM and one of the principle causes of death.3,4
Clinical expression of cardiac involvement is relatively infrequent (3%-6%), with the most frequent cardiac manifestation being myocarditis (40%). Recurrent myocarditis is believed to cause fibrosis of the cardiac conduction tissue, the vasculature, and the myocardium; the final outcome is heart failure, which is the most frequent cardiovascular cause of death (20%).5,6 Nevertheless, the rate of subclinical involvement ranges from 13% to 72% and shows a wide variety of manifestations, including alterations to the electrocardiogram (arrhythmias and conduction and repolarization alterations), the echocardiogram (diastolic dysfunction and takotsubo pattern), and MRI. Cardiac MRI stands out as the best method for detecting the initial myocardial inflammation and myocardial fibrosis in the chronic phase.3
The case reported here demonstrates the advisability of achieving an etiological diagnosis of nonischemic myocardial injury and shows that cardiac involvement can be the only manifestation of AIM. This patient's case also emphasizes the importance of cardiac MRI, autoimmunity studies, and above all multidisciplinary collaboration for an appropriate clinical approach to these disorders.
CONFLICTS OF INTEREST
C. Morís de la Tassa is a proctor for Medtronic and sits on its advisory board.
.
Copyright © 2018. Sociedad Española de Cardiología