Full Text
Management1 of combined respiratory and right ventricular failure is extremely complex due to the interdependency of both organ systems. If decompensation occurs under conventional treatment, physicians can choose between several options for mechanical cardiorespiratory support: a) venoarterial (VA)-extracorporeal membrane oxygenation (ECMO) or venoarterial/venous (VAV)-ECMO2; b) venovenous (VV)-ECMO+/− RVAD systems2; c) right ventricular assist device (RVAD) systems with inline integrated membrane oxygenator (RVAD+oxy) or venopulmonary artery (VPA)-ECMO).3,4
An individualized decision should be taken based on the risk-benefit ratio of each device. We would like to highlight the advantages and disadvantages of each system within the context of a complex case report.
We present the case of a 23-year-old man with arrhythmogenic cardiomyopathy with severe biventricular dysfunction, listed for cardiac transplantation (CT) 6 months before hospital admission. He had a 3-year history of severe hypoxemia, caused by echocardiographically-confirmed right-to-left shunt through a patent foramen ovale (PFO), without pulmonary hypertension or parenchymal lung disease.
He was admitted due to cardiac decompensation with severe hypoxemia. Unstable, refractory ventricular tachycardia led to cardiopulmonary resuscitation with emergency implantation of a biventricular assist device (BiVAD, Levitronix) and closure of the PFO.
Listing for heart transplant was upgraded to "high urgency".
Surprisingly, severe hypoxemia was maintained despite closure of the PFO. Diagnostic studies suggested a severe ventilation/perfusion mismatch: a deeply introduced pulmonary artery cannula most probably led to hyperperfusion of the left lung with consecutive left-sided edema and hypoperfusion of the right lung with relevant dead space ventilation, aggravated by bilateral basal atelectasis with intrapulmonary shunt. Hemodynamically, the patient showed good stability, despite severe pulmonary and tricuspid regurgitation with recirculation of 30% to 40% of total blood flow delivered by the RVAD.
Four days after BiVAD implantation, a V-V-ECMO with femorofemoral cannulation was implanted due to critical arterial oxygen partial pressure levels of<40 mmHg (Figure A).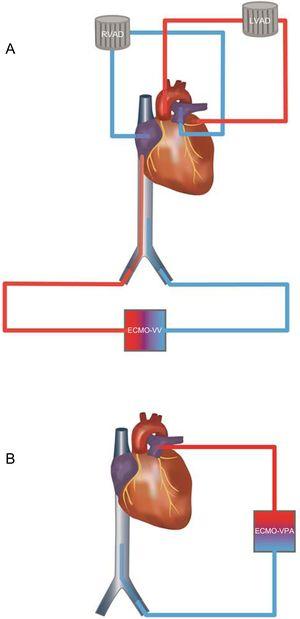 Figure.
A: Before cardiac transplant: RVAD system with recirculation caused by pulmonary and tricuspid regurgitation. Under severe hypoxemia VV-ECMO was added. The inflow cannula in the inferior vena cava ensured drainage of deoxygenated blood. B: After cardiac transplant: A VPA-ECMO was implanted. No regurgitation was feared due to competent valve function. ECMO, extracorporeal membrane oxygenation; LVAD, left ventricular assist device; RVAD, right ventricular assist device; VPA, venopulmonary artery; VV, venovenous.
(0.14MB).
On day 8, orthotopic, bicaval CT was performed. Again, right ventricular failure combined with severe hypoxemia occurred in the operating room when bypass was being withdrawn. Consequently, a VPA-ECMO (Figure B) was implanted leading to recovery of good hemodynamic stability.
Oxygenation improved substantially under external membrane oxygenation. However the patient's intrapulmonary gas exchange was still severely limited by necrotizing pneumonia (Klebsiella pneumoniae) prolonging the need for VPA-ECMO support for 10 more days. Right ventricular function improved and finally normalized. After recovery of acceptable pulmonary oxygenation, the VPA-ECMO was explanted. The patient was weaned from mechanical ventilation and discharged at day 47 without neurological sequelae and with normal biventricular graft function. At his last outpatient visit, he showed a peripheral saturation of 98% under ambient air.
Mechanical cardiorespiratory support with integrated blood oxygenation is a highly invasive but sometimes necessary measure to avoid cardiopulmonary decompensation.1–4 Improvement of oxygenation and decarboxylation is a potent stimulus for pulmonary vasodilatation with significant reduction of right ventricular afterload, allowing for faster pulmonary and ventricular recovery.
However, decision making is difficult given the multiple options of assist devices and their different risk-benefit ratios (Table).
Table.
Characteristics of Different Treatment Options
| Assist device Characteristics  | 1. VV-ECMO  | 2. VA-ECMO/VAV-ECMO  | 3. RVAD+OXY/VPA-ECMO  |
| --- | --- | --- | --- |
| Right heart assist  | No assist. Possibly improving RV performance  | (Nearly) complete  | (Nearly) complete  |
| Oxygenation  | Normally adequate.Higher recirculation risk than 3  | Risk of hypoxic upper body if severe oxygenation failure.Safe under VAV-ECMO  | Excellent with competent right heart valves  |
| Invasiveness  | Low  | Moderate with peripheral cannulation.High with central cannulation  | High, requiring at least 1 surgical procedure.  |
| Bleeding risk  | Low  | Intermediate  | High  |
| Thrombotic risk  | Risk of pulmonary embolism  | Risk of pulmonary and arterial thrombembolism  | Risk of pulmonary embolism  |
| Miscellanous  | Combined inflow-outflow cannula (Avalon) reduces recirculation risk  | Cannot be combined with pre-existing LVAD due to flow competition  | Decannulation strategy without surgical procedure possible  |
LVAD, left ventricular assist device; RVAD+Oxy, right ventricular assist device with integrated oxygenator; VA-ECMO, venoarterial extracorporeal membrane oxygenation: VAV-ECMO, venoarterial-venous extracorporeal membrane oxygenation; VPA-ECMO, venopulmonary artery extracorporeal membrane oxygenation; VV-ECMO, venovenous extracorporeal membrane oxygenation.
Venovenous-ECMO is an excellent option in patients with predominant respiratory failure and only mild-to-moderate right ventricular compromise. Right ventricular performance will most probably improve with less invasive ventilation and afterload reduction.
When there is more severe ventricular dysfunction, VA-ECMO is an interesting alternative. VA-ECMO is an excellent tool to assist the right ventricle. However, when pulmonary oxygenation is severely compromised, hypoxic perfusion of the aortic root is a feared complication. This can be troubleshot by implanting an additional venous outflow cannula, converting a standard VA-ECMO into a hybrid VAV-ECMO.2
Currently, VAV-ECMO together with RVAD+oxy or VPA-ECMO systems are the only options to reliably secure both respiratory and right ventricular function.
In our patient, the initially chosen combination of VV-ECMO under previously implanted BiVAD is a rather unusual option and prone to severe recirculation phenomena due to blood flow competition between several cannulas in the venous system.5 Nevertheless, it was our preferred treatment option because of the pre-existing recirculation phenomenon within our RVAD system under pulmonary+tricuspid regurgitation. Total oxygen uptake depends on the pre-existing oxygenation of blood entering into the oxygenator with higher uptake in more deoxygenated blood. As in our patient, a RVAD-integrated oxygenator would have received a substantial fraction of already well oxygenated blood due to recirculation within the RVAD we decided to implant a VV-ECMO with cannulation of the femoral vein to drain more deoxygenated blood by the inlet cannula to the oxygenator.
After CT the safest option was implantation of a VPA-ECMO because competent graft valves ensured adequate blood flow and oxygenation.
This case highlights how decisions for or against different assist options should be individualized. The severity of right heart failure and respiratory failure, as well as coexisting blood flow irregularities, need to be considered when attempts are made to find the ideal solution to an individual problem.
Acknowledgments
The authors like to express their special acknowledgment to Christine Panagiotidis, Bachelor of Arts in Fine Arts, photographer and graphic designer for designing the scientific illustrations.
Copyright © 2018. Sociedad Española de Cardiología