Full Text
The onset of mitral regurgitation (MR) after heart transplant (HT) is uncommon, but not rare, and appears in around 6% of cases. The condition has been associated with graft vascular disease and heart failure, and it has also been linked to increased mortality1 in these patients. Traditional therapeutic options have been medical treatment and surgery, with the latter often posing a very high risk due to comorbidities, functional status, and the need for a new sternotomy. The MitraClip implant (Abbott Vascular, Menlo Park, California, United States) is a percutaneous alternative for which some scientific evidence is available.2,3 This technique may be useful in transplant recipients in whom further surgery would represent a high risk, although there is a paucity of published reports.4–6
We describe 2patients with severe MR following HT who underwent MitraClip implantation. Surgery for MR had been ruled out in these patients, and both had clear worsening of their functional class related to MR.
The first patient was a 64-year-old man with a Killip IV acute myocardial infarction in 1993 who required emergency HT using the Lower and Shumway biatrial suture technique, with very good clinical progress. In 2012 (19 years post-HT), echocardiography revealed severe MR, which subsequently remained stable with medical therapy until 2018 (25 years post-HT), when he required multiple hospitalizations due to decompensated heart failure and pleural effusion. Echocardiography showed severe (grade III-IV) MR in relation to mitral valve prolapse, predominantly of leaflets A2 and A3, with normal coaptation and cusp mobility, a regurgitant orifice of 0.89cm2, ejection fraction of 64%, and a nondilated left ventricle.
The second patient was a 57-year-old man who underwent HT in 2003 with the bicaval atrial suture technique due to dilated cardiomyopathy of ischemic etiology. The patient had several episodes of acute cell rejection in 2006, 2007, and 2008 that were resolved with corticosteroid treatment. He experienced progressive development of graft vascular disease, leading to a loss of ventricular function and requiring the implantation of multiple drug-eluting stents in the anterior descending, obtuse marginal, and right coronary arteries. He also had complete atrioventricular block, leading to implantation of a dual-chamber pacemaker in June 2018. After these procedures, the patient continued to have symptoms of heart failure in New York Heart Association (NYHA) functional class III-IV, and echocardiography revealed severe (grade III-IV) functional MR with cusps showing no organic involvement, regurgitant volume of 69mL, and slightly dilated left ventricle (end-diastolic diameter, 62mm) with ejection fraction of 50%. Once the patients were confirmed to have suitable anatomy for percutaneous treatment with the MitraClip implant, the procedure was indicated.
In the first patient (Figure 1), transseptal puncture was undertaken with special care because it should be performed at the ideal height and because patients with biatrial anastomosis by the Lower and Shumway technique have an interatrial septal suture containing fibrous tissue, making this puncture more difficult.
Figure 1.
MitraClip implantation in a heart transplant recipient (biatrial suture technique). A and B: echocardiographic images of the transseptal puncture, in which the sheath was advanced while avoiding the more fibrous areas. C: 3D echocardiography showing the advance of the transseptal puncture catheter to the left atrium. D: fluoroscopy image of clip introduction into the left atrium. E: echocardiography of clip placement in the mitral valve. F: final fluoroscopy image of the implanted clip.
(0.45MB).
Both procedures were performed without complications, and both reduced MR from grade III-IV to grade I-II following MitraClip implantation (1 device in patient 1; 2 devices in patient 2) (Figure 2). Neither patient had significantly elevated gradient or antegrade velocity. Following good clinical progress and improvement to NYHA functional class II, the patients were discharged.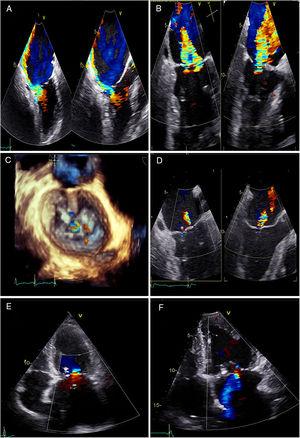 Figure 2.
Final outcome following clip implant. A: image of severe preclip eccentric mitral regurgitation in the patient with heart transplantation by biatrial technique. B: image of severe preclip mitral regurgitation in the patient with heart transplant by bicaval technique. C: 3D image of the final outcome of the 1-clip implant in the patient with heart transplant by biatrial technique. D: final outcome following implantation of 2 clips in the patient with heart transplant by bicaval suture. E: transthoracic echocardiography in the patient with heart transplant by biatrial technique 3 months after the procedure, showing mild mitral regurgitation. F: transthoracic echocardiography in the patient with heart transplant by bicaval technique 3 months after the procedure, showing 2 clips and mild-to-moderate mitral regurgitation.
(0.39MB).
Follow-up at 6 months showed persistence of NYHA II, as well as grade II MR on echocardiography.
Although there are only a few case reports in the literature, patients with severe MR post-HT are good candidates for percutaneous treatment, in view of their high surgical risk and the excellent outcomes reported.
Copyright © 2019. Sociedad Española de Cardiología