Full Text
Significant (severe to torrential) tricuspid regurgitation (TR)1 is a disease that usually develops in patients with heart failure and carries an unfavorable prognosis.2 Recently, several percutaneous techniques have emerged as alternatives to surgery for the treatment of TR. Cardioband (Edwards Lifesciences, USA) is a percutaneous annular reduction system consisting of a Dacron band that is implanted along the tricuspid annulus using a series of anchors (stainless steel screws). Within the band, there is a wire that is then cinched using an adjustment catheter to reduce the tricuspid annulus.3
Very little information is available on the mid-term outcomes in patients treated with this device, coming almost exclusively from the TRI-REPAIR primary registry, with only 30 patients with at least moderate TR and 2-year outcomes.4
The aims of the present study were safety (implantation success and mortality) and mid-term efficacy (reduction of TR severity and symptoms). We analyzed 8 patients with congestive symptoms and severe-torrential TR despite optimized medical treatment who underwent Cardioband implantation with the aim of improving their TR and associated symptoms between September 2019 and August 2020. All patients gave informed consent to participate. The clinical and echocardiographic characteristics at baseline and after the procedure are shown in table 1; 75% were women, mean age was 80.6±3.8 years, and mean body mass index was 26.5±4.7. In all patients the TR etiology was functional. Three patients had had previous cardiac surgery, and the Cardioband was implanted in these 3 patients at 7, 8, and 10 years after surgery. Overall, the median duration of symptoms until intervention was 17.5 [interquartile range, 4-31] months, and all patients had optimized medical treatment. EuroSCORE II was 5.5% and the Society of Thoracic Surgeons risk score was 7.8%. Pulmonary systolic pressure was 40.5mmHg and left ventricular ejection fraction was 62%. All patients had atrial fibrillation and none had a pacemaker. All had been rejected for surgery due to high surgical risk, frailty, or comorbidities. The procedures were carried out under general anesthetic and with transesophageal echocardiographic and fluoroscopic guidance, with a mean time of 260±68min.
Table 1.
Baseline characteristics and changes in echocardiographic variables, blood tests, and treatments at follow-upa
Variable 
Baseline 
Follow-up

a

 

P

 

Study population baseline characteristics and comorbidities

Hypertension 
7 (87.5) 
 
 
Diabetes mellitus 
1 (12.5) 
 
 
COPD 
1 (12.5) 
 
 
eGFR <60 mL/min/1.73 m

2

 
5 (62.5) 
 
 
Pulmonary systolic pressure, mmHg 
45.8±9.3 
 
 
Atrial fibrillation 
8 (100) 
 
 
Chronic ischemic heart disease 
0 
 
 
Previous cardiac surgery 
3 (37.5) 
 
 
Ascites 
2 (25) 
 
 
Previous stroke 
1 (12.5) 
 
 
Active cancer 
1 (12.5) 
 
 
EuroSCORE II 
5.5% 
 
 
STS score 
7.8% 
 
 
Frailty

b

 
7 (87.5) 
 
 

Echocardiographic parameters

Vena contracta TR, mm 
13.3±4.0 
7±3.0 
.026 
RV area, cm

2

 
31.4±7.1 
23.2±8.2 
.003 
RA area, cm

2

 
32.7±9.2 
28.0±6.5 
.119 
AL tricuspid annulus, mm 
45±3.8 
37.4±4.0 
.015 
RV global longitudinal strain 
–14.2±3.8 
–15.5±1.8 
.518 
RV fractional area change 
39.5±8.4 
43.2±5.4 
.398 
LVEF, % 
62.5±8 
62.2±6 
.923 

Medical treatment

Furosemide, mg/d 
87±53 
107±73 
.245 
Torasemide, mg/d 
2.5

a

 
0 
 
Spironolactone, mg/d 
20±13 
23±33 
.741 

Blood parameters

eGFR, mL/kg/1.73 m

2

 
57±22 
48±21 
.170 
Creatinine, mg/dL 
1.1±0.3 
1.2±0.3 
.315 
BNP, pg/mL 
240±96 
322±272 
.571 
AST, U/L 
38.4±14.4 
36.7±12.1 
.085 
ALT, U/L 
22.7±5.6 
25.0±10.3 
.597 
GGT, U/L 
168±83 
129±65 
.118 
Hemoglobin, g/dL 
12.6±1.1 
12.4±1.4 
.429 
AL, anterolateral; ALT, alanine aminotransferase; AST, aspartate aminotransferase; BNP, brain natriuretic peptide; COPD, chronic obstructive pulmonary disease; eGFR, estimated glomerular filtration rate; GGT, gamma glutamyl transferase; LVEF, left ventricular ejection fraction; RA, right atrium; RV, right ventricle; STS, Society of Thoracic Surgeons; TR, tricuspid regurgitation.
a
The echocardiographic variables compared are from studies at baseline and at 3 months after Cardioband implantation. For the rest of the variables, the most recent measurement or assessment performed during follow-up (9.03±3.67 months) were used.
b
According to the frailty criteria proposed by Fried et al.5
Unless otherwise indicated, qualitative variables are expressed as No. (%) and quantitative variables, as mean±standard deviation.
The technical success rate of the procedure (defined as successful access, deployment, positioning of the implant and septolateral reduction during the procedure and at discharge as previously established)4 was 100%, although in 1 procedure it was not possible to implant all the anchors, as toward the end, the device came loose from the catheter due to torsion of the band during implantation, but it was still possible to cinch it, nonetheless. The mean hospital stay was 8 days. Regarding significant complications, 1 patient had occlusion of a posterolateral branch of the right coronary artery due to traction after cinching the Cardioband; this did not affect ventricular function. No patients died or had ischemic or bleeding complications related to the procedure.
After a mean follow-up of 9±3.67 months, all patients were alive except for an 80-year-old man who had cor pulmonale and died at 4 months. At follow-up, 62.5% of the patients were in New York Heart Association functional class I-II after Cardioband implantation compared with 37.5% at baseline (figure 1). Regarding congestive symptoms, all patients had peripheral edema at baseline; this was reduced to 4 patients (50%) at follow-up. There was a significant reduction in the grade of TR assessed using the vena contracta and the classification proposed by Hann et al.1 (P=.01). We also observed a significant reduction in the tricuspid annulus and the right ventricular end-diastolic area, but we did not detect significant changes in right ventricular contractility parameters or mitral regurgitation grade. Likewise, there were no differences in diuretic treatment or parameters of liver and renal function.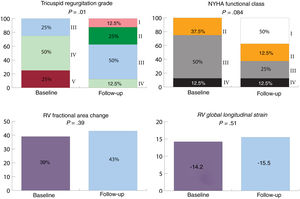 Figure 1.
Clinical and echocardiographic variables at follow-up*. Tricuspid regurgitation was classified from grade I (mild) to V (torrential). NYHA, New York Heart Association functional class; RV, right ventricle.
*The echocardiographic variables compared were from studies done at baseline and at 3 months after Cardioband implantation. For NYHA, the most recent assessment performed during follow-up (9.03±3.67 months) was used.
(0.27MB).
Despite the limitation of the small sample size, the results indicate that Cardioband implantation in patients with symptomatic severe-torrential TR appears to be a safe and effective option, which achieves symptomatic improvement in the mid-term and a reduction in the tricuspid annulus and valve regurgitation grade.
This procedure may be futile in patients with severe pulmonary hypertension in an end-stage situation, as occurred in 1 of these patients. Pacemaker wires are not a contradiction, but it should be confirmed that the wire is not adhered to any of the leaflets and that this is not causing the TR. After Cardioband implantation, it is possible to pass a wire or to implant a wireless pacemaker. These results align with those from the TRI-REPAIR primary study, although in the present series, we included patients with moderate TR. Further studies and longer clinical follow-up are needed to confirm the promising data from this new percutaneous treatment option.
FUNDING
No funding was received for this article.
AUTHORS' CONTRIBUTIONS
Study concept and design: Á. Sánchez-Recalde and J. Solano-López. Manuscript writing: Á. Sánchez-Recalde and J. Solano-López. Data acquisition, analysis and interpretation: J. Solano-López, A. García Martín and A. González Gómez. Critical review of the manuscript: J.L. Zamorano, C. Fernández-Golfín, A. García Martín and A. González Gómez.
CONFLICTS OF INTEREST
Á. Sánchez-Recalde is associate editor of Revista Española de Cardiología; the journal's established editorial process has been followed to ensure impartial handling of the manuscript.
Acknowledgements
We would like to thank Dr Luisa Salido Tahoces and Dr Rocío Hinojar-Baydes for their invaluable critical review of the article.
Copyright © 2021. Sociedad Española de Cardiología