Full Text
The usual treatment for patients with congenital heart disease (CHD) who develop severe pulmonary hypertension (PHT) is medical treatment with pulmonary vasodilators and repair of the heart defect if possible. When this is not possible due to severe PHT with fixed pulmonary resistance refractory to medical treatment, heart and lung transplant or lung transplant (LT) combined with repair of the defect may be considered. Since the first description of successful repair of CHD plus LT in 1990,1 several cases have been reported.2–4 In Spain, a few cases have been published of adults with simple heart defects,5 but there are no reports of pediatric cases with these characteristics.
We report the case of a 15-year-old male patient with severe PHT and CHD consistent with anomalous pulmonary and systemic venous drainage with a large atrial septal defect (ASD). The patient presented with dyspnea at rest and on minimal exertion, with precordial pain characteristic of angina despite treatment with oral sildenafil and bosentan and subcutaneous treprostinil.
Computed tomography showed interruption of the inferior vena cava with azygous continuation to the left superior vena cava, draining into the coronary sinus (brachiocephalic vein absent). The right pulmonary venous drainage was via 2 pulmonary veins draining to the right atrium (Figure 1A). The images also showed a giant aneurysm (more than 8cm) of the pulmonary artery that was displacing and compressing the neighboring structures (Figure 1B). Finally, there was an ostium secundum ASD with right-to-left shunt.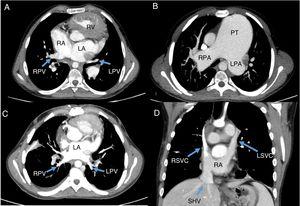 Figure 1.
Preoperative computed tomography and result after transplant. A: anomalous pulmonary venous drainage. B: pulmonary aneurysm. C: pulmonary venous drainage. D: systemic venous drainage. LA, left atrium; LPA, left pulmonary artery; LPV, left pulmonary vein; LSVC, left superior vena cava; PT, pulmonary trunk; RA, right atrium; RPA, right pulmonary artery; RPV, right pulmonary vein; RSVC, right superior vena cava; RV, right ventricle; SHV, suprahepatic veins.
(0.33MB).
Echocardiography showed severe hypertrophy of the right ventricle (Figure 2A), severe tricuspid regurgitation with suprasystemic pulmonary pressure (Figure 2B) and a large pulmonary artery aneurysm.
Preoperative workup confirmed the previous findings: suprasystemic PHT (mean pulmonary artery pressure >90mmHg and pulmonary vascular resistance of 32 UW). In addition, there was compression of the left main coronary artery due to the pulmonary aneurysm.
It was decided to perform bilateral LT with repair of the CHD in the same procedure. The operation was carried out with extracorporeal circulatory assistance. The 3 venae cavae and the ascending aorta were cannulated. After performing bronchial anastomosis on the right side, the aorta was cross-clamped and cardioplegia was administered to induce cardiac arrest. Next, the right atrium was opened and, via the ASD, the left atrium was identified and the cuff of the right pulmonary veins of the donor was anastomosed to the body of the left atrium of the recipient (Figure 1C). Finally, the ASD and the right atriotomy were closed and the left lung was implanted. Ischemia time and extracorporeal circulation time were 45 and 185minutes, respectively. In the first few hours after surgery, the patient's oxygenation decreased, with low O2 saturations—requiring bronchoscopic clearance—and he had a significant postoperative bleed. The patient required prolonged intubation due to postoperative delirium and seizures associated with supratherapeutic tacrolimus levels, and needed a tracheotomy. He then progressed without further incidents and 5 days later, ventilatory assistance could be withdrawn followed by the cannula. The patient was discharged to home at 30 days after surgery. At 1-year follow-up, the patient was asymptomatic and had saturations of 96% to 97% on pulse oximetry. Echocardiography showed improvement in PHT and mild tricuspid regurgitation (Figure 2D), good biventricular function, and absence of significant residual defects. Spirometry showed a forced expiratory volume of 1.96 (62%) and a forced vital capacity of 3.73 (71%), with a ratio of 71.
In the literature, articles on combined surgery for LT plus CHD repair are rare, and report only small series or clinical cases.1–4 The largest series to date6 describes 51 patients with CHD and severe PHT who underwent heart and lung transplant (n=16) or LT with CHD repair (n=35). This second group had significant serious postoperative complications and in-hospital mortality. It is interesting that, in the group that underwent LT plus CHD repair, the mean age at the time of surgery was 1.7 years and the mean pulmonary arterial pressure and vascular resistance were 66 and 21mmHg, respectively. These figures are quite different to the age and PHT severity in our patient, which could indicate that such patients in our setting are maintained with medical treatment.
In conclusion, combined LT plus CHD repair represents an option in our setting for patients with CHD and severe PHT. This treatment should be considered for patients with symptomatic CHD and severe PHT refractory to medical treatment, independently of their age.
Copyright © 2019. Sociedad Española de Cardiología